Did you know that more than half of salespeople are ineffective when it comes to closing deals? The Rain Group report, after having surveyed 400+ participants, yielded: the win rate is only 47%. How to reverse these proportions?
Sales Emails: What Is It?
A sales email is what represents your company. The way you will prepare and present it to clients has a big impact on successfully closing a sale. In simple terms, one can visualize sales emails as product catalogs with descriptions and prices; they would also contain an invitation for customers to establish cooperation.
How to write and send a sales email so that your customers, after reading it, start buying from you?
Well, there are certainly various approaches to this issue, but we've selected the essentials.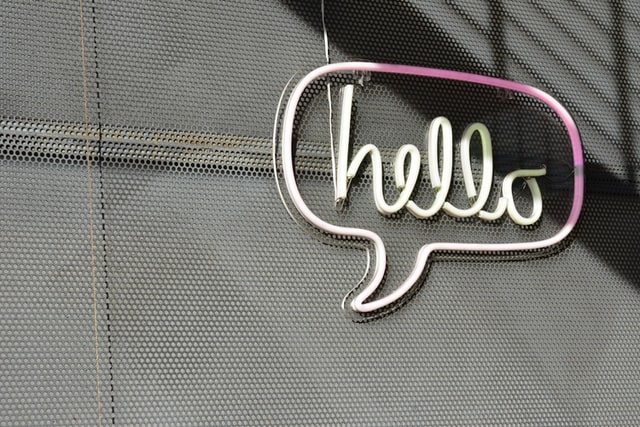 Sales Emails: How Do You Write an Email to Sell Your Business Services?
To master this skill to perfection, you need to break sales email art into three aspects:
Get to Know Your Clients
Without an in-depth understanding of the prospect's needs, your sales emails will be a guessing game.
Before you write even one letter of your commercial offer, you need to know the answers to these questions:
Their Goals
What are the tangible problems and challenges they want to solve?
Their Budget
Is it negotiable, or is it a fixed amount?
Stakeholders and Decision-Makers
Who do you need to tailor your message to?
Their Urgency
Is it a burning issue, or is it something they can wait for?

When collecting these responses, pay attention to the exact words and phrases that your potential customers already use to describe your situation. You use them in your proposal to make them feel truly heard.
As you can see, research is the key activity here. It's also advisable to ask further some additional questions:
What is the greater impact of solving this problem on the customer (e.g., on his revenue)?
Who is the decision-maker? Are there more than one? What are their roles?
Did you find a need urgent?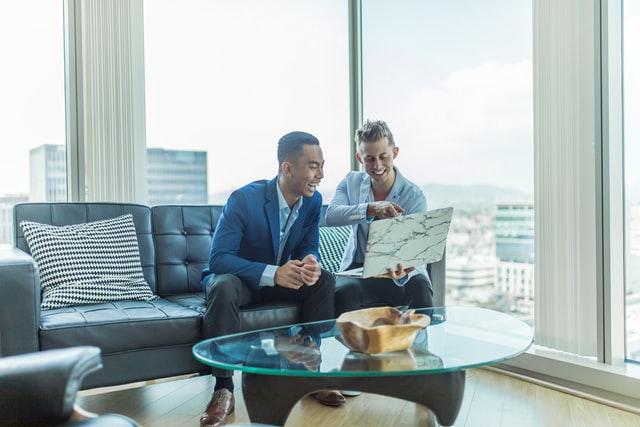 Draft It—Practice Makes Perfect
Instead of working from scratch every time you talk to a prospect, build a sales email template that you can customize for each new customer.
Focus on making your commercial proposal only as long as necessary—two to three pages will suffice for most scenarios. In this step, however, you should include all the information that we consider relevant to the presentation of your case.
This will help you get a complete picture of how your offer can fit into a potential customer's life. In the next step, you will refine and organize this information.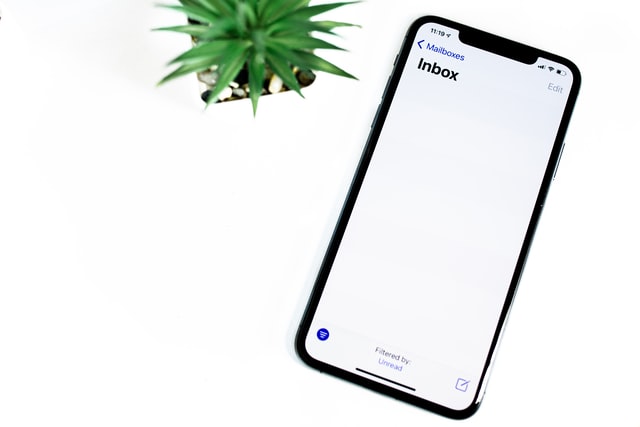 Improve and Repeat
What matters at the end of the day is if we chuck our mistakes up to experience. With such an attitude, we can constantly work on sales email-wise strategies, thus enhancing them.
If your proposal has been completely rejected, analyze your interlocutor's reaction. Ask why he's done so. Is it impossible to negotiate and succeed? Are they supposed to save money? Or maybe they are looking for a different format for your solution or need more time to make a decision?
And most importantly: don't give in. Do you happen to remember what we've said about success rates when it comes to sending follow-ups? On average, there should be sent at least five emails to hear back from a prospect and get some reply.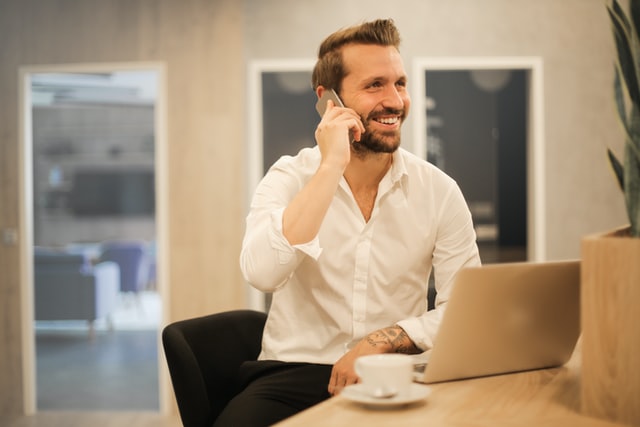 Sales Emails: How Do You Write a Sales Email?
Let's get down to the business. There are five basic and universal components that every sales email should consist of.
Subject Line
This is an absolutely necessary element of each sales email. As long as you choose something eye-catching and concise, your success is guaranteed.
Opening Line
Believe us, there is a plethora of ways as to how to begin a sales email. Needless to mention—most of them are adequate. To put it differently: as long as they increase your open rate, they're fine.
On the whole, there are no pitfalls here whatsoever. Feel free!
Body Copy
You can use here both questions and statements. As they say, the end justifies the means. With that in mind, it'd be best if you refrain from using verbosity.
Closing Clause
There are many—if not countless—ways to end your sales email. Unless they are impolite and stylistically inappropriate, your expressions should really suffice.
Professional Signature
What a professional signature comprises depends on your preferences. For a certainty, it'd help if you didn't omit the essential information, such as a phone number or social media profiles.
With that being said, we'd further introduce you to three sales emails templates.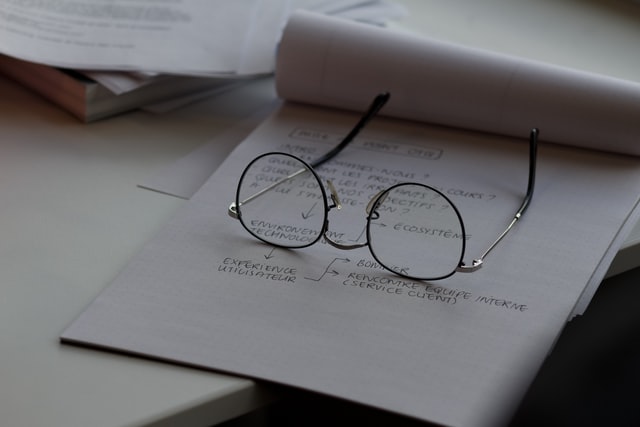 Sales Emails: 3 Free Templates
TEMPLATE 1
Hello [INSERT]!

I suppose your schedule is extremely hectic. That's why I will take just a minute:

We're a [INSERT] thanks to which you can significantly [INSERT]. Imagine: [INSERT AN EXAMPLE OF HOW YOUR PRODUCT WORKS). 

Would you like us to give you a free demo? We can schedule any day the next week.

Looking forward to hearing from you!

Best wishes,
[INSERT]
TEMPLATE 2
Hi there!

My name is [INSERT]. I am [INSERT]. We specialize in [INSERT].

I am emailing / texting / contacting you since I'd love to introduce you to [INSERT].

Below, you can see our portfolio.

Any questions? We're at your disposal!

Thank you,
INSERT
TEMPLATE 3
[INSERT PROSPECT NAME],

I hope my message finds you well. Since the last time we talked, our product [INSERT] has got realased. 

As you asked me to keep you in the loop, I am doing so.

Would you have any further questions, feel free to ask them.

Best wishes,
[INSERT]
Sales Emails: TOP 7 Tools
Now that we've done with more theoretical information, it's high time that you got acquainted with rather applied knowledge.
When it comes to sales emails, it is as if obligatory to use appropriate software. That's the reason we've decided to prepare the selection below.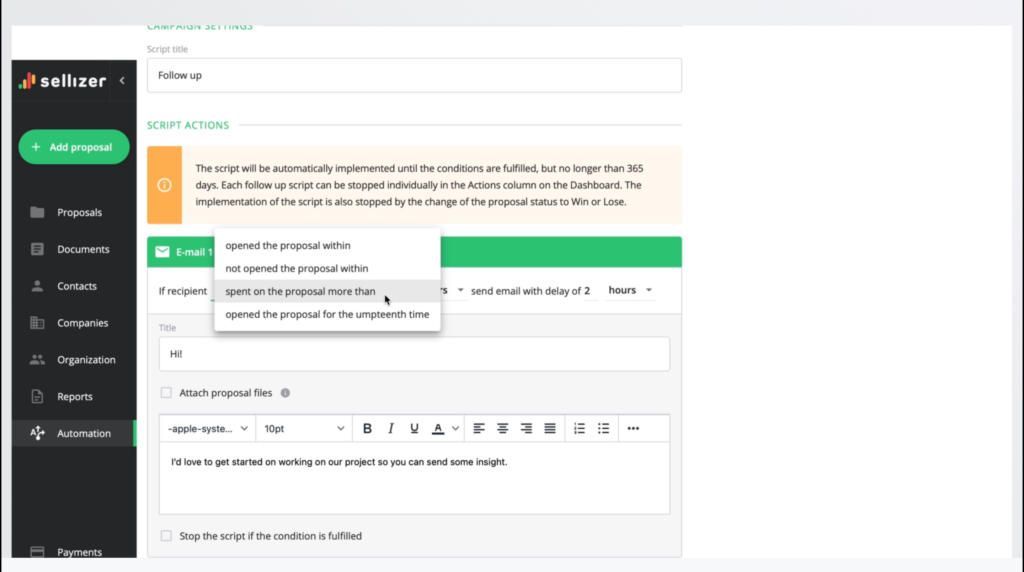 Sellizer, as a comprehensive sales supporting tool, will undoubtedly help you build better customer relationships and… close deals WAY faster!
Equipped with numerous integrations, Sellizer provides you with pre-eminent sales email automation tools you've never had access to.
They include but are not limited to:
Lead Nurturing and Automated Follow-Ups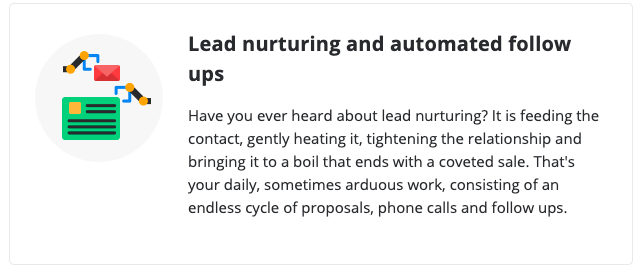 Message Templates

Sending Proposals Through Any Channel

Example Contract Order Widget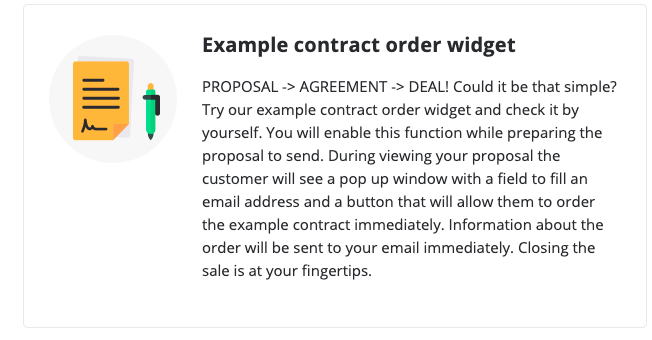 Automated Sales Reports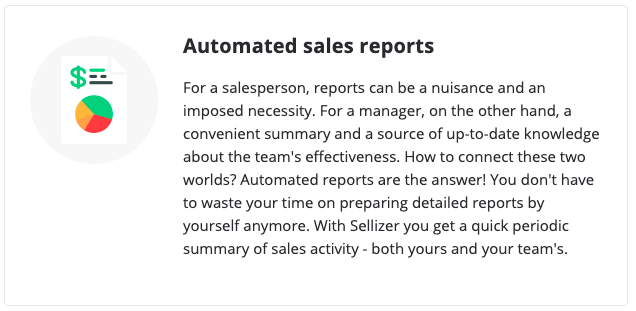 Would you like to look into more sales email automation Sellizer features, click here.
You'll also be granted access to sophisticated analytics functions, thanks to which you'll increase your sale chances even nine times more!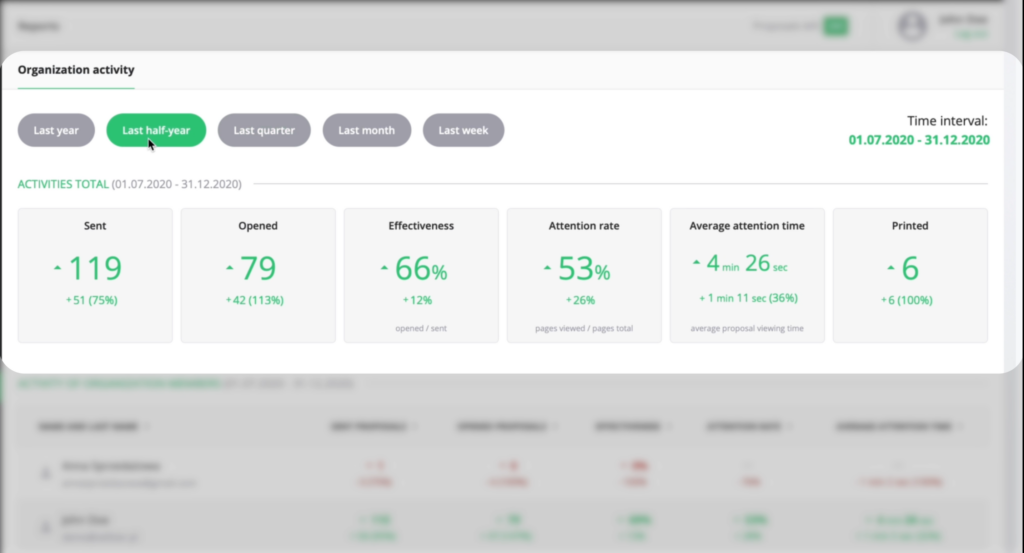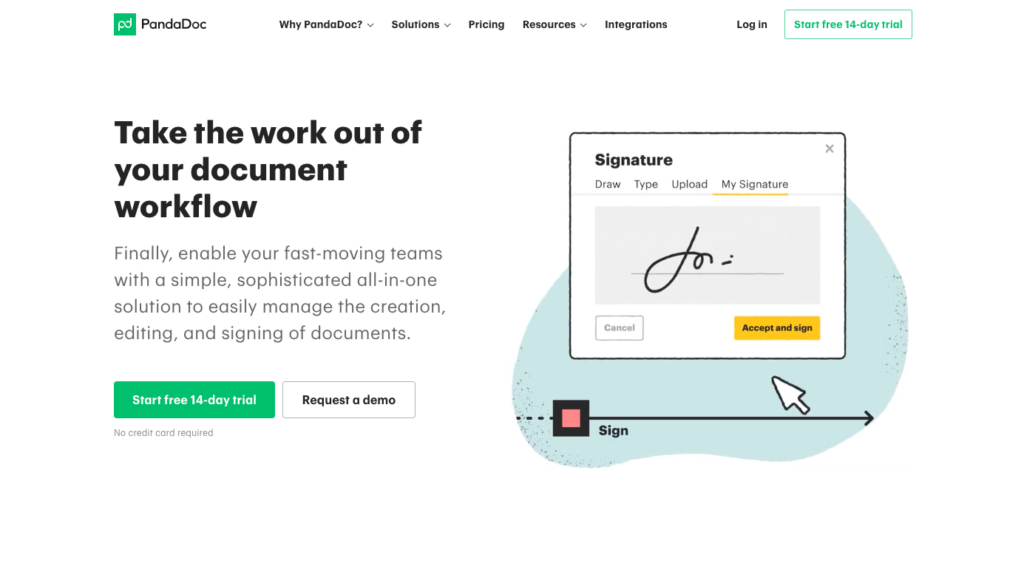 PandaDoc, as a holistic marketing and sales tool, can equip one with many functions. So far as sales teams are concerned, this software offers all-inclusive sales email templates. This will help you grab and maintain customers' attention as well as act dynamically.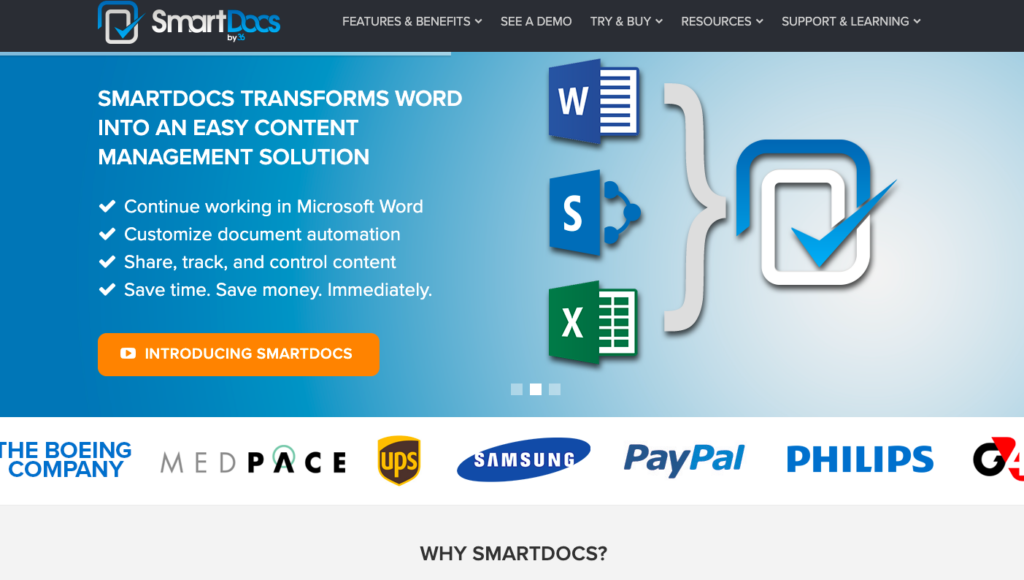 SmartDocs enables you to choose an adequate package depending on what kind of writer you are. What's more, you're granted access to numerous sales email-wise functionalities, such as Conditional Text, Bulk Publishing, Content Map, or SmartBuilders for Proposals.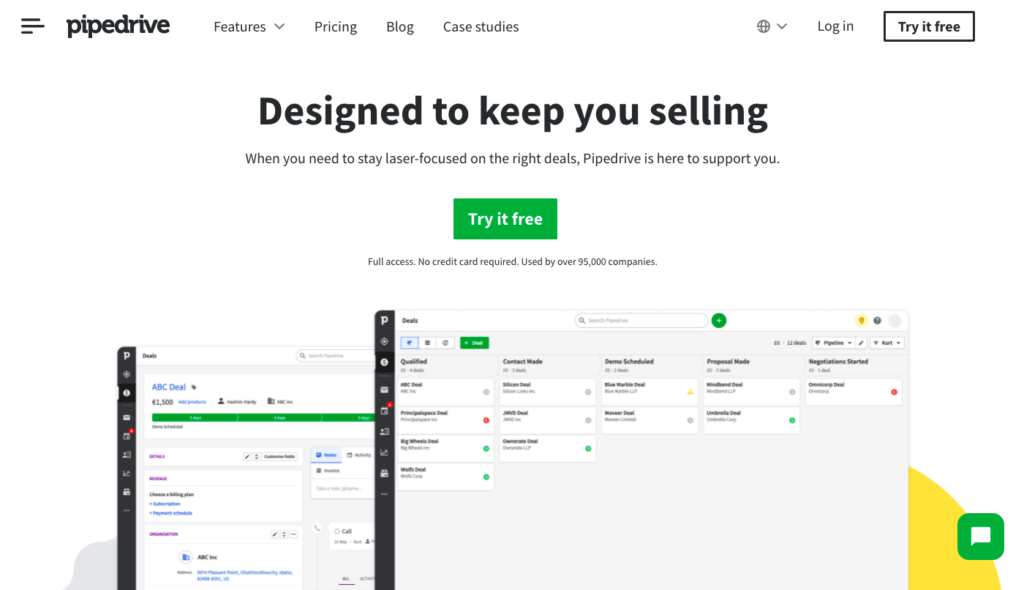 Pipedrive, founded in 2010, also is comprehensive sales email software. Based on six pillars, the tool allows you to manage sales conversations from your preferred inbox and have emails automatically linked to deals and contracts.
On top of that, there are many integrations into Pipedrive. One of them is Sellizer.
Reply.io, as sales email software, helps you scale your outreach. When it comes to sales email products and solutions, the tool offers: Email Quality Check, Email A/B Testing, Sequence Templates as well as Outbox.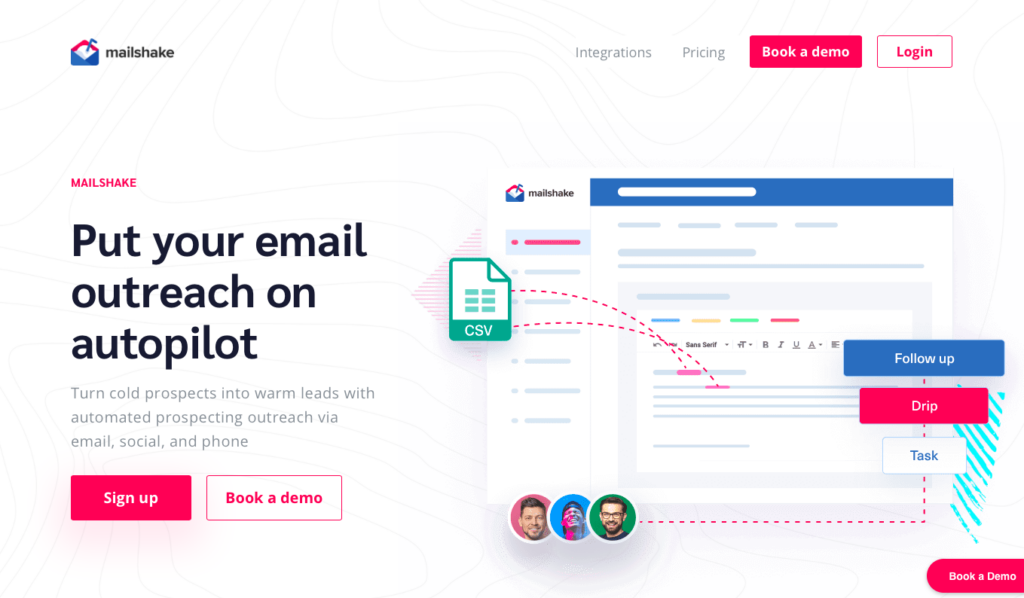 Primarily, Mailshake accounts for automating your cold outreach. This sales email software enables you to send personalized cold emails at scale, engage with prospects via various channels—and manage it all in one sequence, on one dashboard.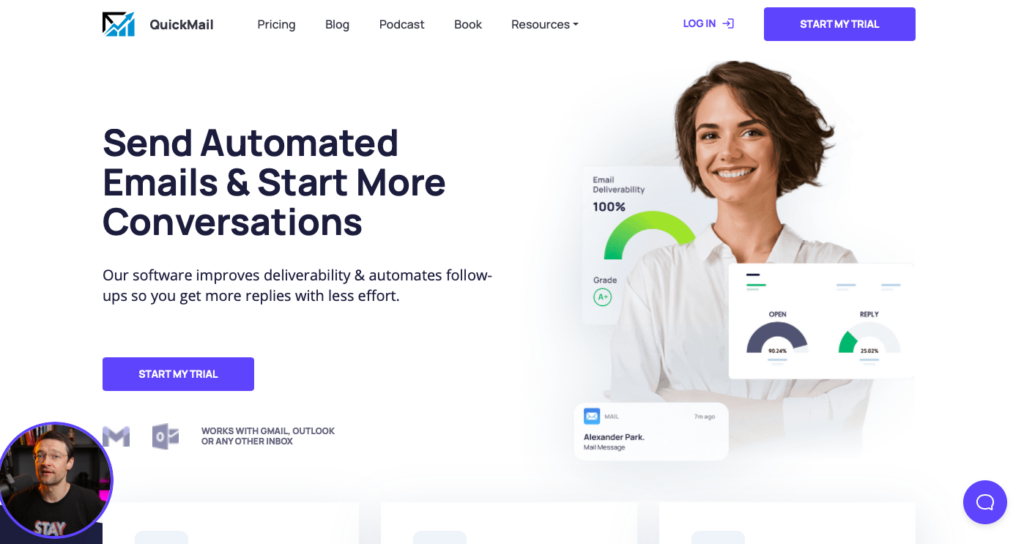 QuickMail maximizes your emails deliverability, which yields 80% open rate and beyond. Additionally, this sales email tool improves your workflow and boosts your productivity by connecting other parts of your tech stack.
Sales Emails: Summary
Sales email-related tasks may be at times arduous, but practice makes perfect. This is, actually, the only requirement (along with auxiliary materials and comprehensive software). We wish you good luck when establishing new habits at your company!
And, by the way, what's your view on sales email practices?