Use business proposal templates that will make you stand out. Have you spent countless hours perfecting your presentation, only to be met with silence from your potential customers? One trick to make a lasting impact on them is to use juicy visuals. Let's get the basics straight first – if you wish, skip them and simply grab a sales proposal template from the resources below.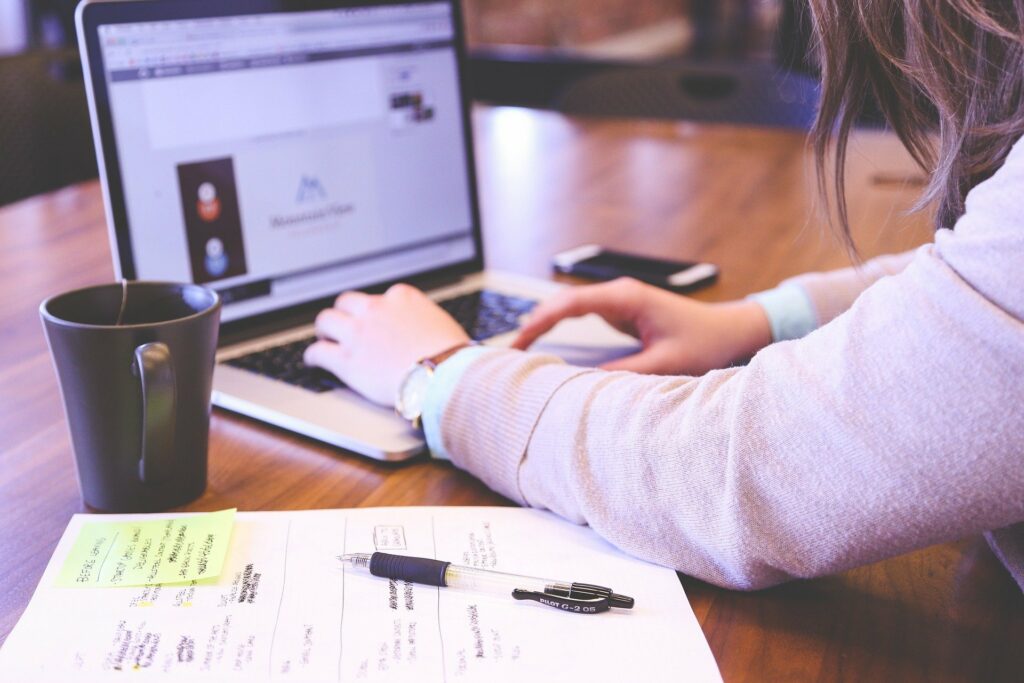 Why is a business proposal important?
A well-written business proposal letter or presentation not only shows your prospects how your product or service works but also convinces them you have the best solution to their problems. This way, you can spark interest and even close the deal without a single phone call or in-person sales pitch.
Because the modern customer wants to make quick and informed decisions, a business proposal is necessary to sell your product or service effectively. Breeze through the sales process by showing your prospect their very desired results, the easy steps needed to achieve them, and clear pricing – all they will need to do is say yes.
How to write a business proposal that drives action?
Let's divide writing a tempting business proposal into 3 bigger steps. Complete them in this order and before you know it, you'll be winning sales daily, putting in only a fraction of the effort you used to.
1. Research and analyze – know your customers like the back of your hand
Get to know your potential customers and make sure you understand their goals, budgets, and priorities. Ask yourself:
What problems do they have? What words do they use to describe their situation?
How much can they spend? Do they expect a fixed price or is it negotiable?
Who do you need to persuade and what arguments will convince them?
Do they want to make a decision straight away or ponder and compare their options?
Analyze your most successful deals so far. Think about the long-term clients, recurring customers, biggest spenders, and those who have recommended you the most. What do they have in common? How do you interact with them? Use this information to perform even better in the future.
2. Use the tried-and-tested business proposal format to grab and hold attention
No matter which business proposal templates you choose, the following structure is the most reliable way to go about filling them.
Start with a title and table of contents.
Describe your intentions and company briefly.
State your customer's problems and goals.
Present the solution (your product or service).
Show the pricing options.
Explain the process in a timeline with steps and dates.
Present case studies and customer recommendations.
Clarify the terms and conditions.
Call the recipient to action.
Include an agreement and space for signatures.
Keep the contents readable. Write short paragraphs, use headings and lists, and enhance the text with high-quality visuals such as infographics, tables, and graphs. Include brand storytelling to show the human side of your company and gain potential customers' trust. Remember to stress the unique selling proposition (USP) of your product – the one thing that makes it different and better from the competition!
3. Test different business proposal templates and see what works
If the response rate still doesn't satisfy you, test different solutions. Maybe you could include more social proof – awards, customer testimonials, or the purchase count – to show your prospects that your product works? Or perhaps changing the color scheme and layout could do wonders for the recipients' attention span?
The easiest way to check which factors play the biggest part in the outcome of your proposals is to use proposal tracking software such as Sellizer. Providing you with fresh statistics of when and how the recipients engage with your files, the app helps you discover the weak and strong points in your sales process and modify it to achieve better results.
How many pages should a business proposal be?
There's no set number of pages you need to squeeze your proposal into. However, it's always better to think twice about which information is relevant. Your prospects aren't going to read a 5-page story about your company conquering the market, and neither will they want to work their way through a 10-page product description before you've given them reasons to trust you. 2-3 pages per proposal are usually enough.
Once you've sent your proposal, what's next?
Either your prospect accepts your business proposal or they don't – or worse, they don't answer you at all. In the first scenario, celebrate the success and stick to the schedule you've given to the customer. If your proposal has been rejected, don't get discouraged! Instead, analyze the reasons and try to negotiate. At least you know how to do better next time.
What to do if you don't get a response? In all likelihood, there was nothing wrong with your business proposal. Other tasks and conversations might have taken priority since the prospect is probably as busy as yourself. They might also have gone on vacation. You might want to schedule a series of follow-up messages with Sellizer or another tool in both cases.
Are you ready to create a game-changing business proposal sample? Find your preferred file format below and discover the best resources for stylish and flexible templates!
Best business proposal templates in DOC (Microsoft Word)
Template.net – find a business proposal sample made for your industry
Probably the biggest source of document samples, Template.net offers over 45 business proposal templates to download or edit directly through the site. Find examples directed at specific industries (e.g. travel, real estate, or retail) or versatile ones which you can easily personalize. Some of the templates (including this one) can be edited and downloaded for free – all you need to do is sign up.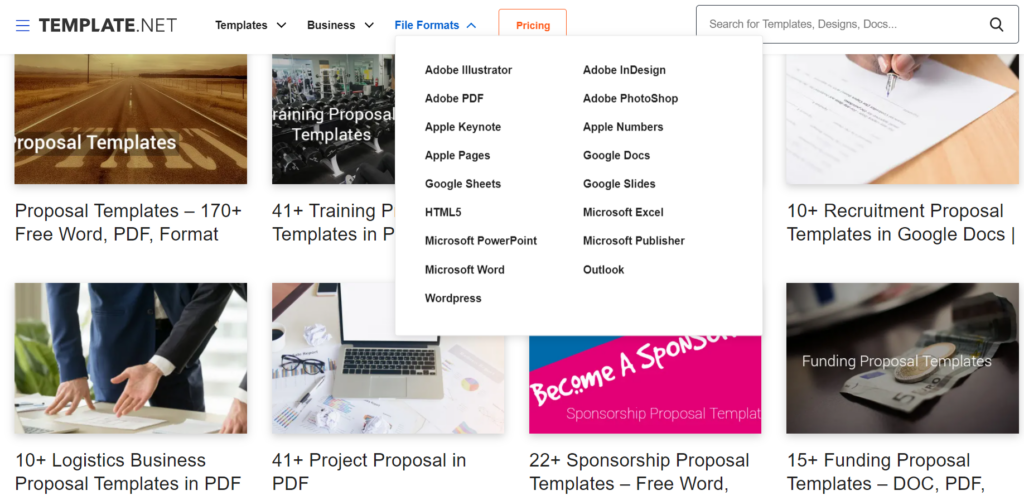 Office Templates Online – simple & free proposal examples
If you're looking for a simple, free and ready-to-download business proposal sample, Office Templates Online has got you covered. No registration or payment is required – simply choose a file and wait for the download link to be generated. The contents include:
a cost proposal sample,
a project proposal template,
a business proposal example,
a sales proposal template.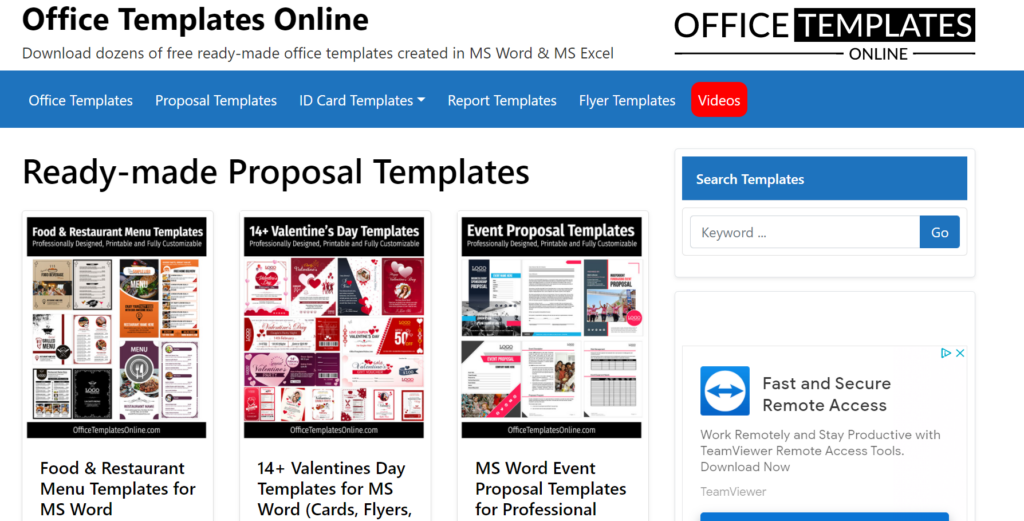 PandaDoc – create and send a business proposal letter
Create a clean and professional-looking business proposal letter on Pandadoc. Over 160 themed samples are waiting for you to edit and send directly through the site or download onto your drive. Among them, you'll discover designs related to your industry, e.g. PPC, travel agency, web design, or accounting proposal templates. Registration is required.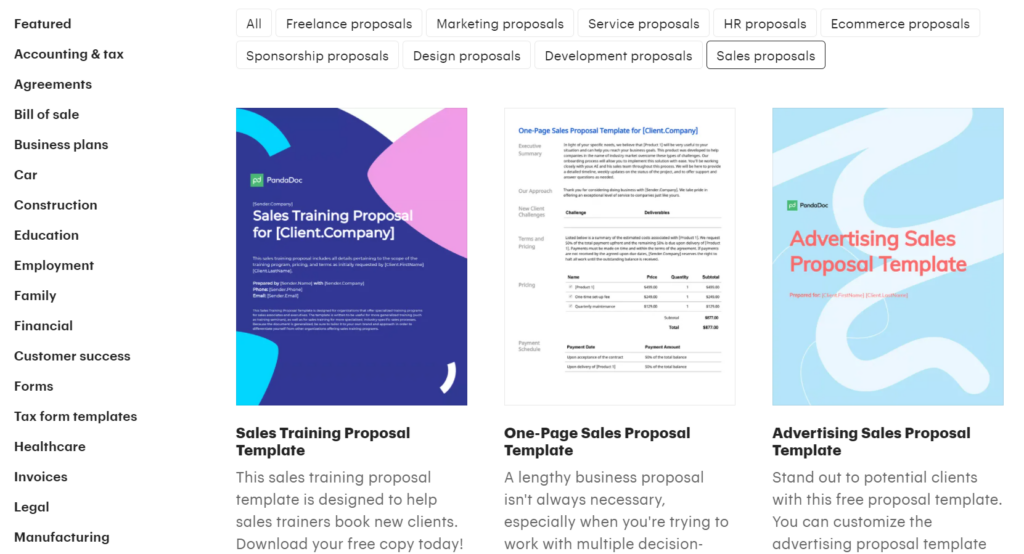 Business in a Box – all kinds of document templates in one membership
Business in a Box offers more than 2000 simple document templates, including a flexible business proposal sample. The style might not be everyone's cup of tea, and the website requires you to pay a monthly fee for unlimited use of its files. However, it's a good choice for people who create, print and sign many different kinds of documents every day.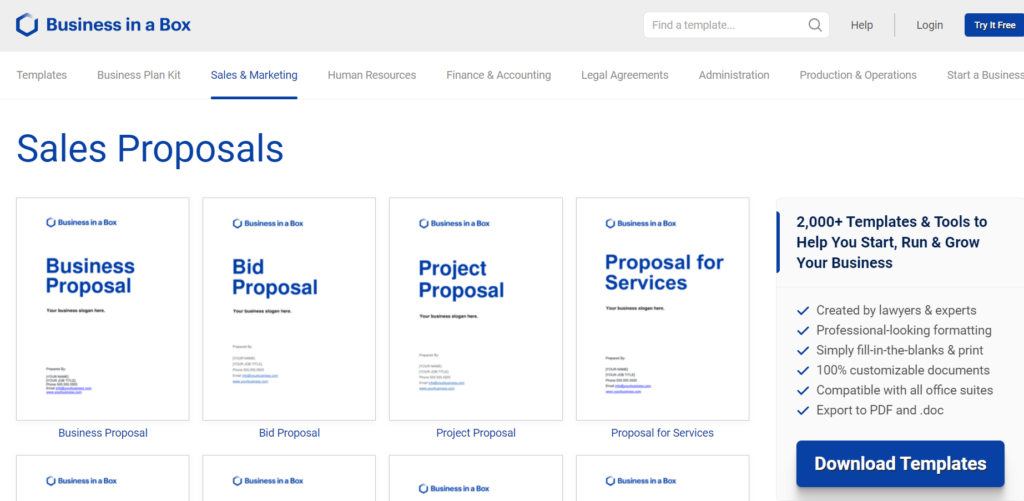 Word Templates Online – download simple proposal samples with 1 click
Use one of the business proposal templates available at Word Templates Online to create a clean and minimalistic document, emphasising the key information about your event, service, or product. The files might not be very modern in design but they're completely free, and they may give you good ideas for the content.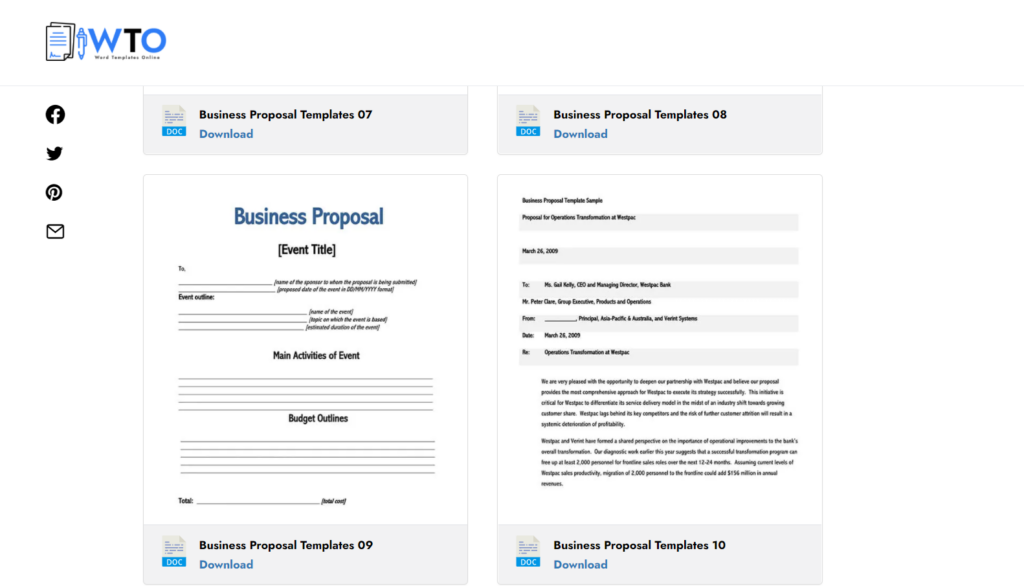 Best business proposal templates in PPT (Microsoft PowerPoint)
Slidebean – professional business presentations for free
A good choice of well-designed business presentation templates awaits you on Slidebean. You'll be required to enter your email address to receive a free file but it's worth it! Proposal samples you can download from the site include:
a bid proposal template,
a software proposal template,
a project proposal sample,
a product proposal sample.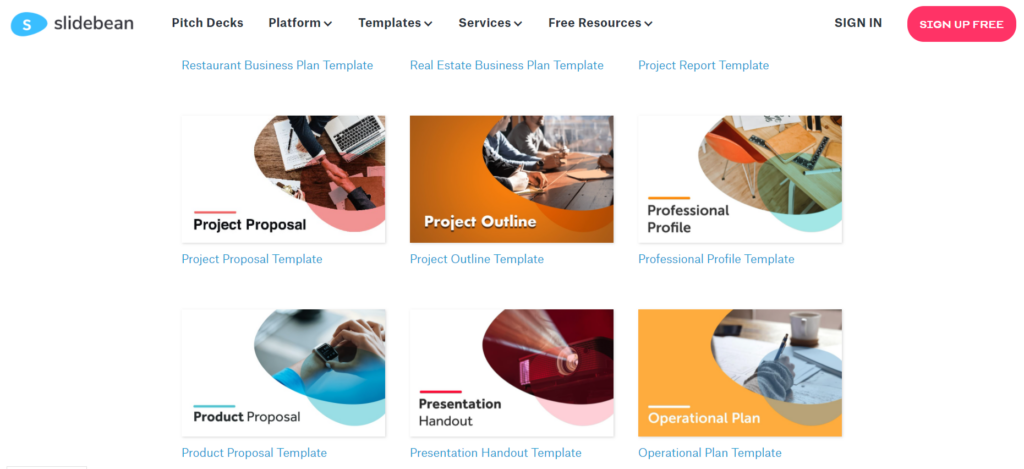 SlideUpLift – build a free business proposal template from downloadable slides
Although the majority of content on SlideUpLift is paid, there's a lot to choose from – from project proposals to sales pitches – and the samples include some very useful graphs and diagrams. If you're not keen on paying, why not grab some free slide templates and use them as building blocks for your presentation?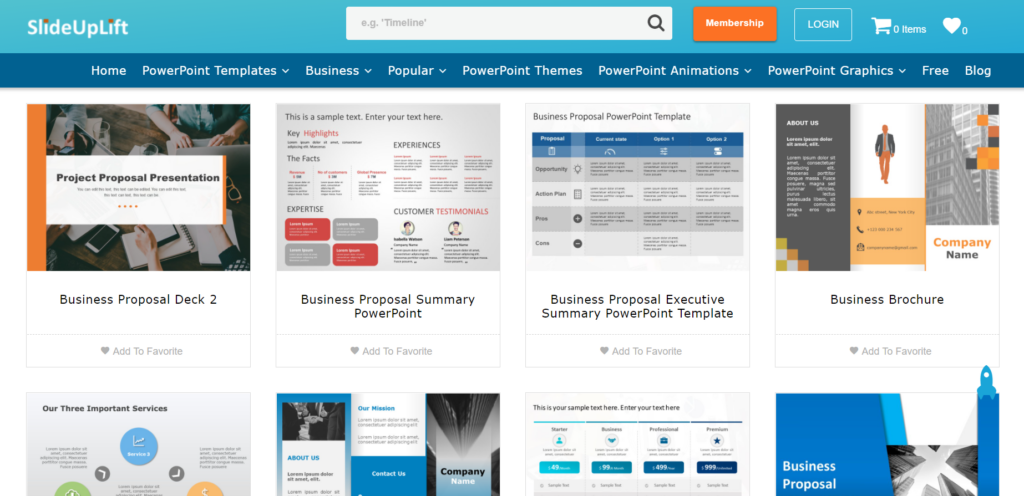 SlideSalad – one package for all your presentation needs
Some of the best business proposal templates in PPT can be bought on SlideSalad. The comprehensive packages allow you to build a highly converting sales pitch presentation or a basic product proposal sample that you can edit and reuse. There's even a multipurpose PowerPoint template with over 400 unique slides – no need to buy several packs!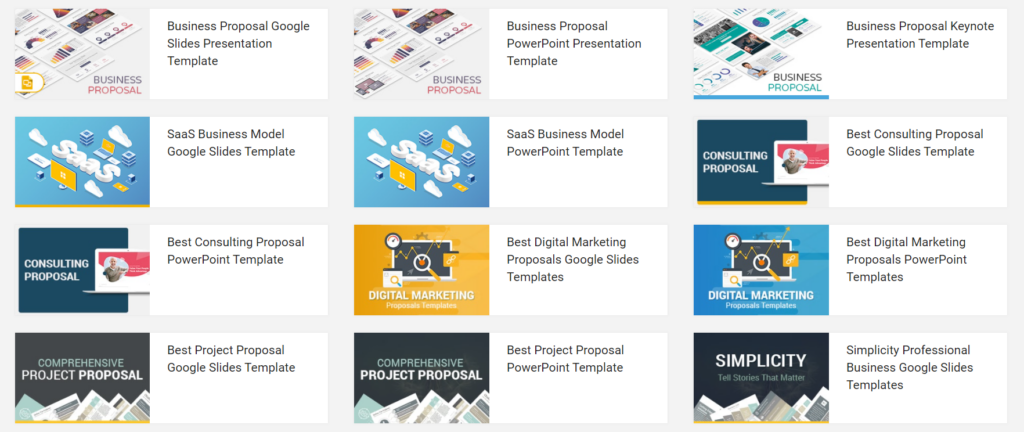 SlideBazaar – a versatile business proposal example for free
When it comes to business proposals, SlideBazaar offers 2 templates – one free, one paid. The free option consists of 20 slides with eye-catching visuals – customize them and you'll be done with a professional presentation in no time. The premium option consists of 30 even better illustrated slides.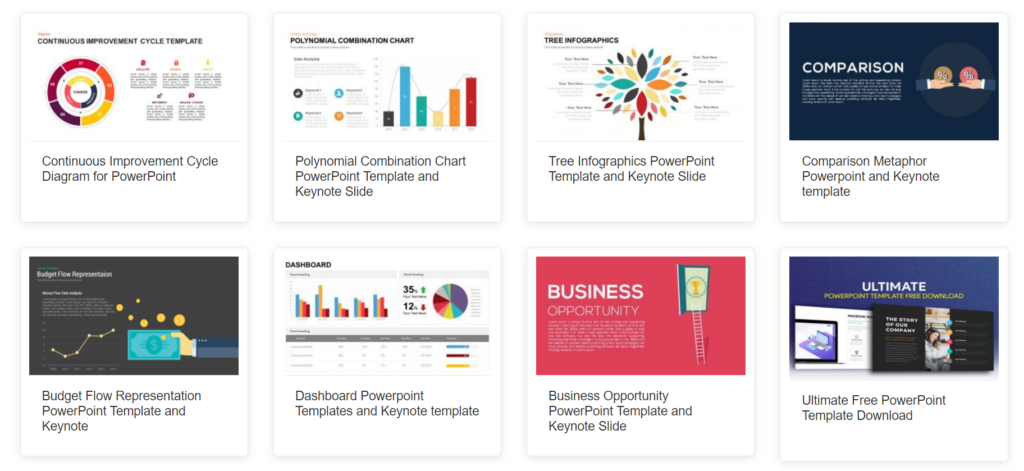 Slidesgo – comprehensive business presentation packages
Slidesgo is a great source of free project proposal templates and other editable business presentations, such as pitch decks, company profiles and business plans. Within a package, you get over 40 slides – an impressive number for a free PowerPoint template. Premium content is also available for more demanding users.

Best business proposal templates in PDF
JotForm – create and edit PDFs online
Choose your favourite business proposal format and edit it directly through JotForm. The intuitive PDF editor makes it easy and quick to create a themed proposal in your style – whether you have your eye on a multi-purpose proposal or one specifically related to your industry.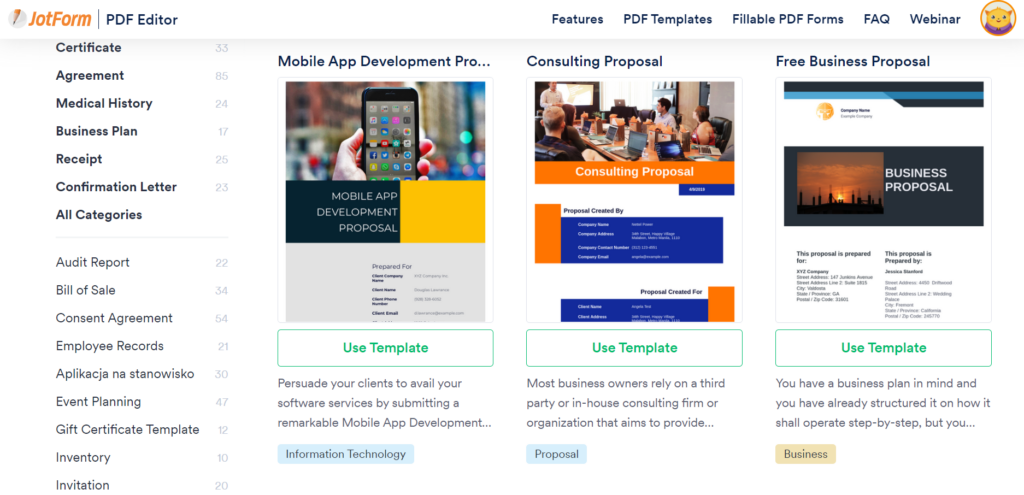 Flipsnack – design a professional business proposal
Flipsnack has everything you need to create an engaging document in PDF. Browse free and premium templates, choose your favourites and edit them directly through the site – to download the end product, you'll be required to sign up. The samples include a business proposal letter, a sales proposal template and more professional documents.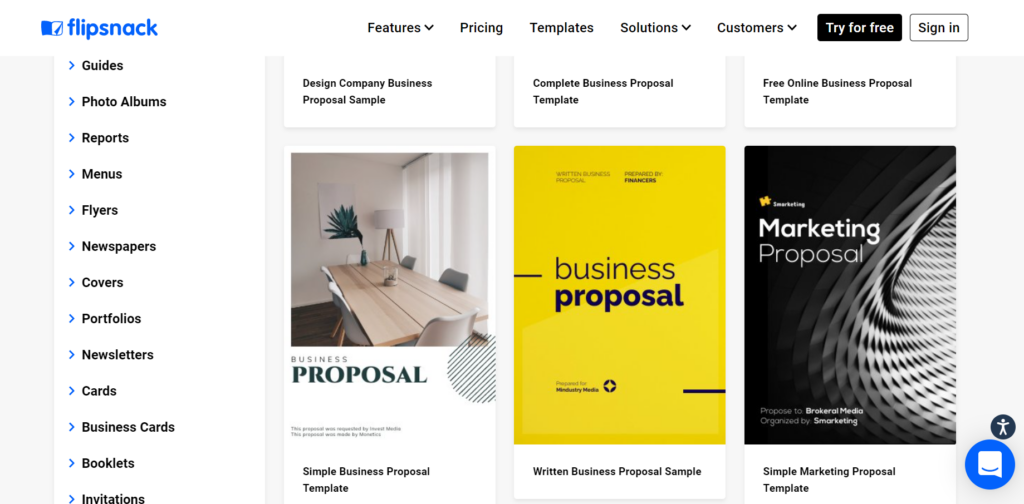 HubSpot – simple & free business templates
From cash receipts to advertising proposals, HubSpot presents over 80 business templates available for free. To download them, you need to fill out a form. Flexible and minimalistic, the examples will serve as a good base for your custom PDF documents.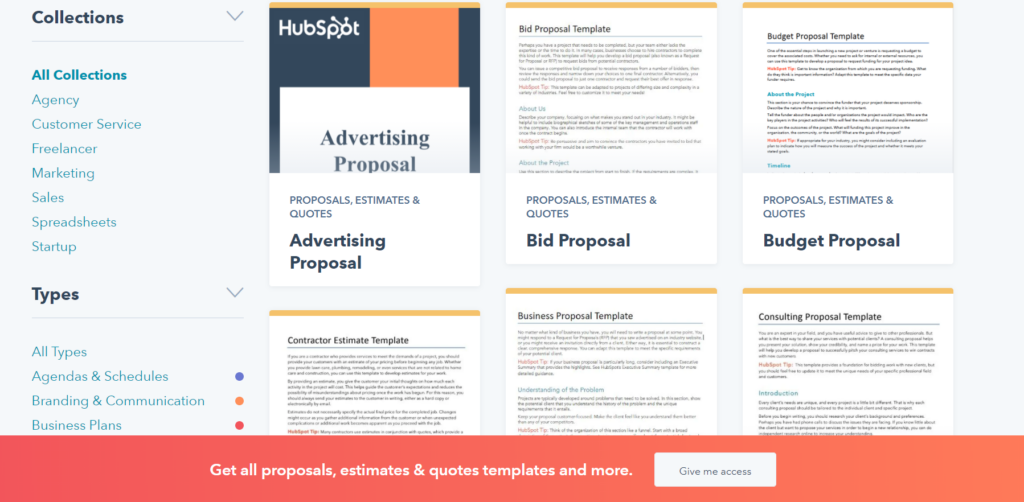 PandaDoc – the same templates in DOC and PDF
PandaDoc offers more than 160 templates not only for Microsoft Word but also in PDF. Sign up, pick a business proposal sample and send the ready document instantly or download it for later use. Filter the search results to discover service proposals, sales proposals and other types of documents you might need.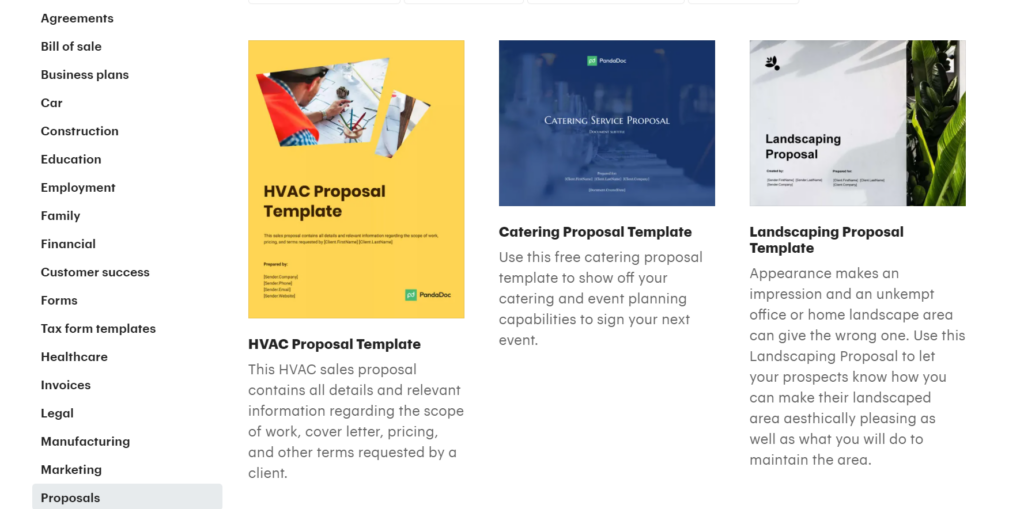 Proposal Kit – design proposals and write contracts offline
Apart from online resources, you might benefit from document writing software – ProposalKit contains tons of proposal and contract templates, page designs and an easy-to-use editor. If you create business proposals all the time, this app might just be the foundation you need.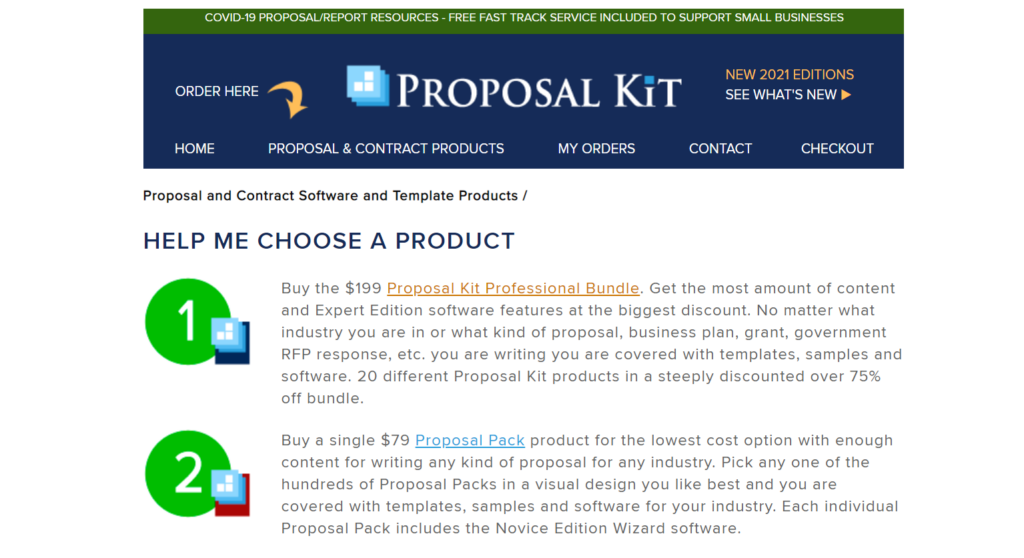 Business proposal templates for free
If you're looking for a free business proposal template with no hidden costs, only coming up after you've spent hours on editing, here you go.
Canva Proposal Templates
Canva is a graphic design platform that anyone can use. Thanks to its vast library of templates, stock photos, and decorative elements, it makes creating and editing graphics ridiculously simple and fast. Users are required to sign up and the majority of professional templates are paid. However, you can also find some hidden gems available for free.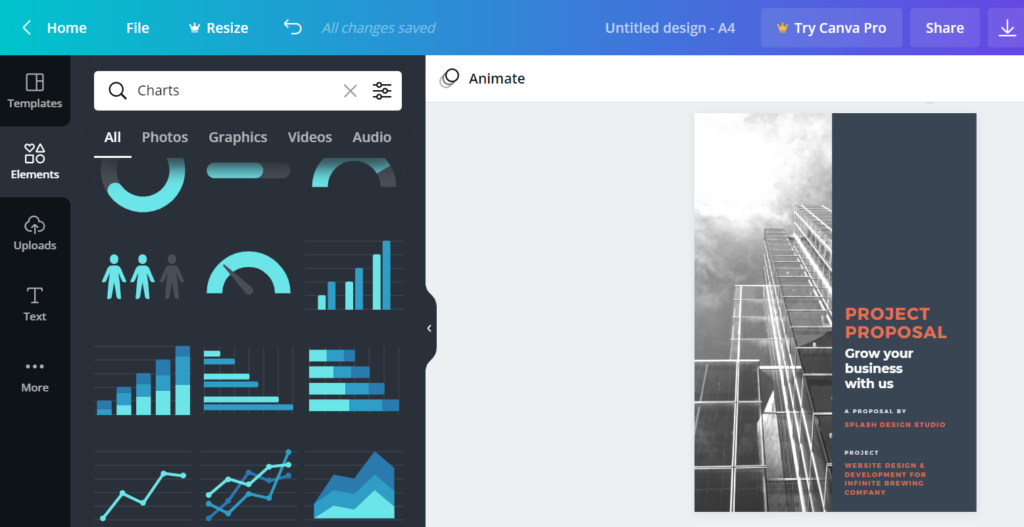 Edit ready templates or design your own from scratch, using free photos, graphics, and backgrounds – all up to date with the latest trends. No special skills are required to create amazing content, from business proposals to Instagram stories. Designing your own product proposal sample in Canva costs nothing as long as you stick to the free elements.
Paid business proposal templates
If you don't mind paying for a high-quality business proposal example, there are plenty of options to choose from – get to know one of the most reliable below.
Envato Market Business Templates
Envato is a place where you can download all kinds of digital items – graphics, website designs, sound effects, music… you name it. Subscribe for €14.50 a month or visit the community marketplace where users can sell and buy singular products, including some of the best business proposal templates. With a free account, you'll be able to download 12 specific files a month from the main site.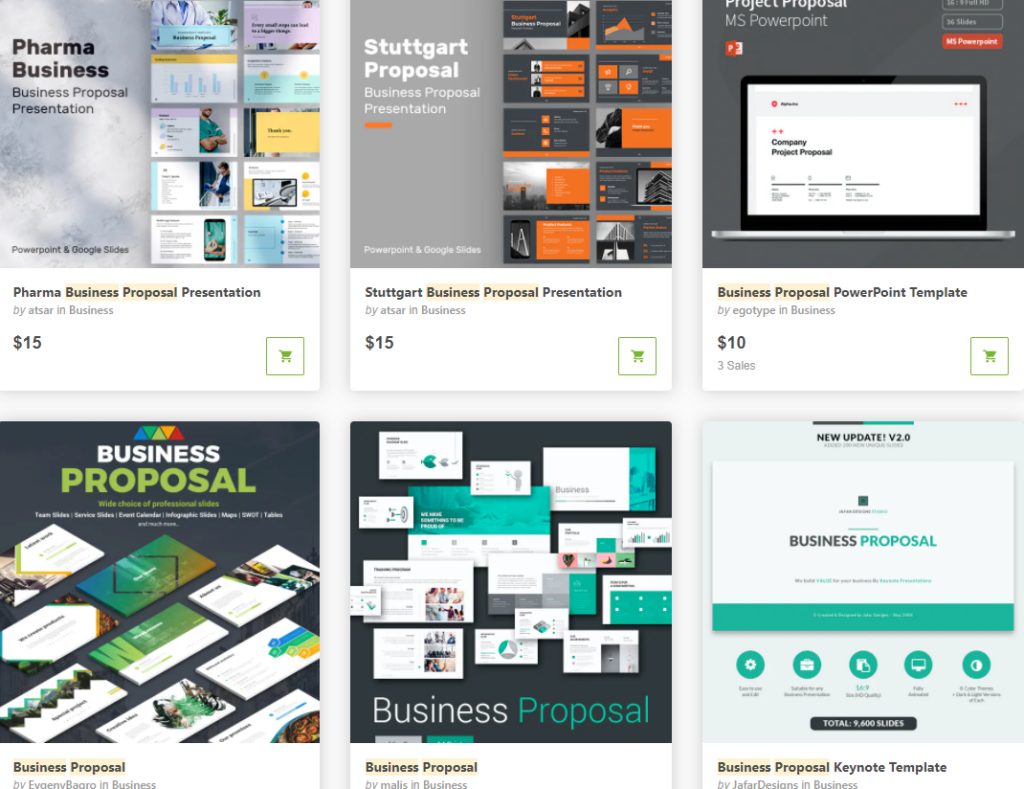 Discover thousands of business, project, event, and product proposal templates. Other files you might find useful include icons, fonts, and stock photos. Cleanly designed and consisting of multiple pages with unique layouts, the templates found on Envato will help you create an irresistible business proposal in just a few minutes.
Design proposals that lead straight to the agreement
Business proposal templates – resource ranking
Now you're ready to meet your potential customers with an eye-catching proposal. Enjoy the resources listed above, save your favourite business proposal templates and let us know which ones work the best!