Pipedrive is a CRM system which was launched to help you close more deals and improve teamwork. It enables integration into numerous tools. There is no need to change your habits—you will easily make proven solutions, which you are used to, compatible with CRM features. Hence, it will enhance the efficiency of both sales and marketing activities.
Read also
We've chosen 13 integrations into Pipedrive and broken them down into 4 categories.
Integrations into Pipedrive—Improving the Efficacy of Business Offers
Sellizer is a handy tool when sending proposals. It will notify you as soon as your sales offer has been opened. Thanks to this, you get a chance to contact your client in the most crucial moment—when the proposal is in front of the recipient's very eyes.
The tool grants access to precise data about the sent proposals. As a result, you know what has interested the client the most, how much time he or she's spent on each page, and which parts of the proposal have been omitted. It's also no secret if the file's been downloaded, forwarded, or printed as well as how many times the recipient has come back to it. With such information, you are able to measure the level of interest in your offer.
What you will find useful is also Sellizer's AI tool. Based on the data about the sales offer, you can improve sent proposals ongoingly.
Sellizer also offers automatization of follow-ups, which are the vital component of efficacious sales. Set up a draft message which will make your prospects want to get to know your offer.
With Pipedrive integration into Sellizer, your daily tasks are just easier. Sales management will become approachable. You will save a whole lot of precious time and increase your profits!
Find out more about Pipedrive integration into Sellizer.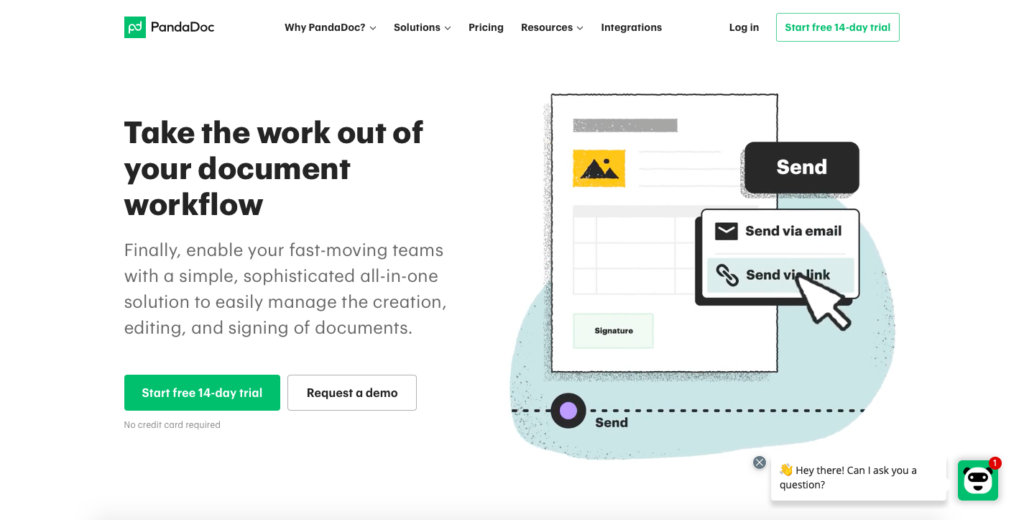 PandaDoc is a tool which will walk you through the process of sending proposals. It is equipped with a module for creating business offers as well as 450 ready-to-use proposal templates, which you can personalize accordingly.
The tool enables you to track emails—you'll get a notification about opening the proposal. What's more, statistics on viewing time will be available (how long a prospect's read your file, how many times he/she's come back to it, or if it's been downloaded). The data will help you estimate the recipient's level of engagement and how much he or she is interested in the offer. Also, minor improvements will become so easy to introduce.
In addition, PandaDoc lets you perform A/B testing. Hence, you can measure the effectiveness of the proposals and choose the one which is simply the best.
PandaDoc also features the Online eSignature tool.
Integrations into Pipedrive—Generating Leads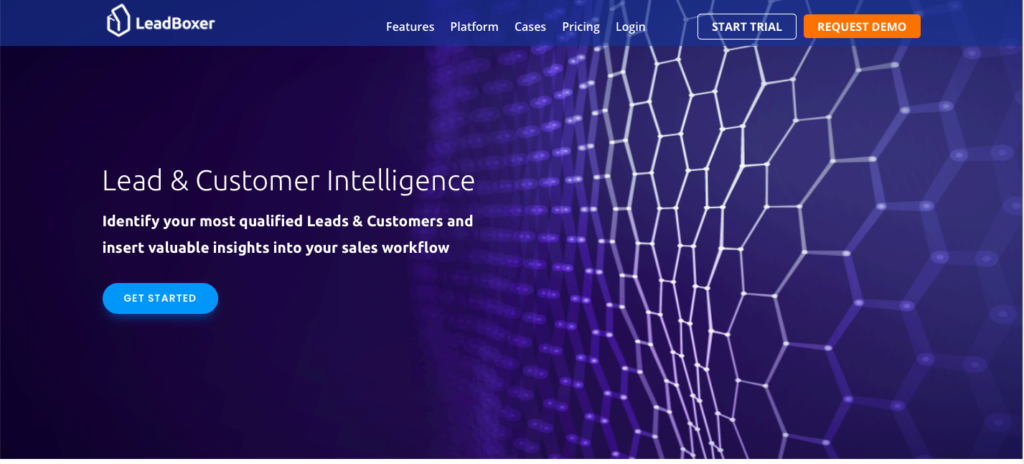 LeadBoxer supports sales and generates leads from your website. The tool gathers data about prospects while they're on the verge of making a purchase. LeadBoxer identifies and collects such information as the name of the customer's company, the date of visiting the website, and actions which the client undertakes.
All identified leads are automatically allocated to particular companies. Also, you get access to certain details—e.g. industry, localization, size, domain, social media profiles, and so forth. Such knowledge might result in even better personalization.
After picking all necessary information up, LeadBoxer segments leads and forecasts sales based on the segments' behaviors and the available data.
LeadBoxer serves also as an email tracker.
It's worth mentioning that also Sellizer has its fair share of generating leads. Namely, you can post pop-ups on websites. This is an ideal way to grow the customer base. Needless to mention, it is possible to turn pop-ups on in your proposal.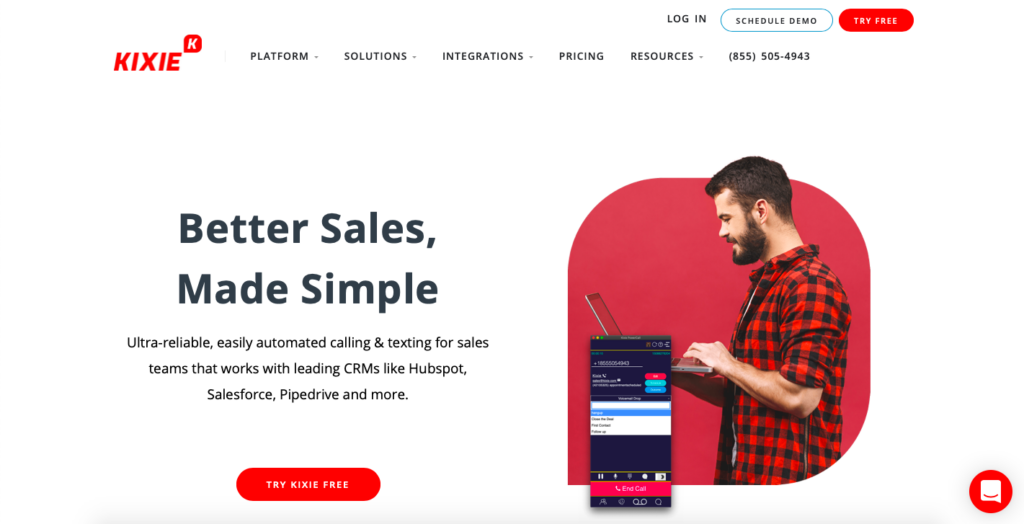 Kixie is a tool that automates some elements while preparing a sales process. Using AutoDialer, it enables salespeople to reach prospects straight away and automatically. Because of SMS automation, Kixie immediately sends a text message to a freshly generated lead. You can robotize not only SMSs but also emails and follow-ups. With that being said, there'll be no more begging a client for any contact without any fruitful results. In exchange, you'll get more time for other activities.
Making use of two-way synchronization, Kixie—in an automated manner—registers voice calls and stores phone records. Don't you worry—the salesperson will not forget to save activity in CRM this time.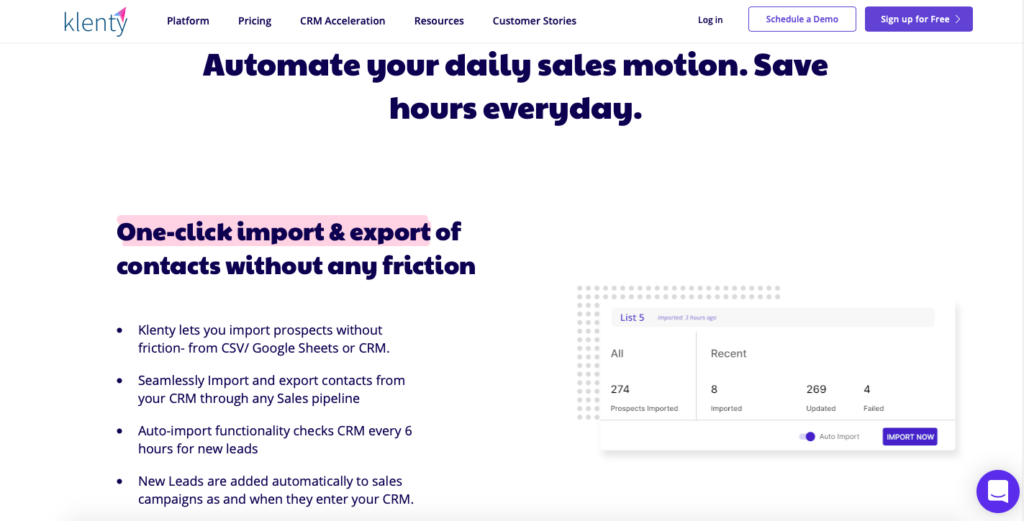 Klenty helps in the sales management process and automates some parts of it. The tool mechanically imports your new leads into CRM every 6 hours. Klenty will also add them to your sales campaigns.
You will be following bounces, replies, and subscription withdrawals as you have never been. Hence, you will not send an email to a person who simply doesn't want it. So-called security filters will not let you contact the same prospect unless 12 hours have passed. Thanks to Klenty, you can automatically restart an action for this client who's let you know that's not available at the moment.
Directly within Klenty, salespeople can edit checklists and tick made voice calls in CRM. Statistics on the openness of emails will be saved as well.
Sellizer also offers automated sales operations. One of them is the mechanization of follow-ups—it'll be certain that the customer will have read your sales offer. Not only will you rid yourself of hated questions whether the recipient's opened your message, but also it'll improve work comfort and save you a whole bunch of time.
Integrations into Pipedrive—Increasing Productivity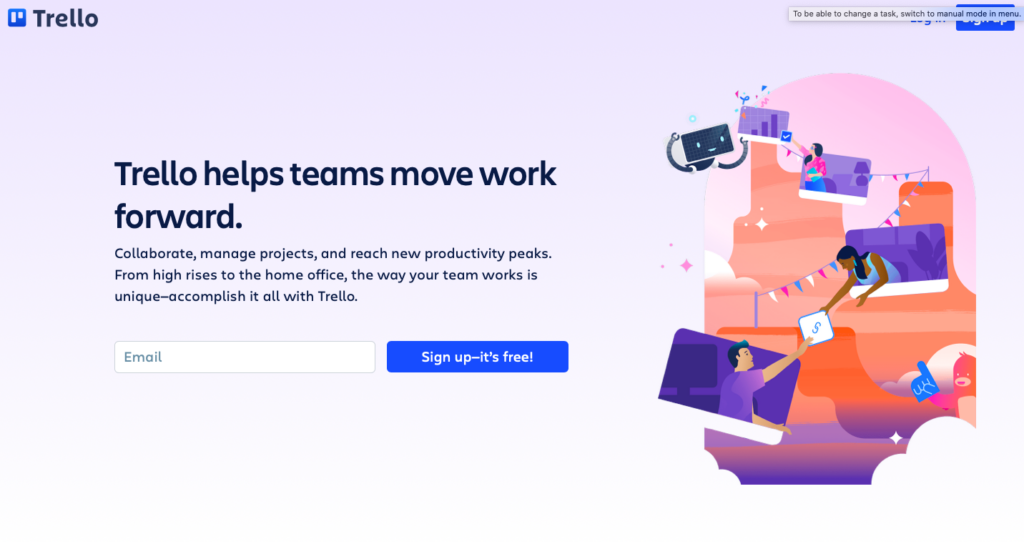 Trello is a free and easy-to-access tool for both project management and work organization. It prevents you from chaotic teamwork.
Thanks to Trello, you get control over all tasks and, thus, can use your time more wisely. Collaboration becomes easier on account of the structure of the tool. The key feature is Trello's system—boards divided into 3 groups:
What you are working on
Who is working on it
How completed a task is
Pipedrive integration into Trello enables you to synchronize information between two systems. You may automatically create cards based on data about transactions in CRM.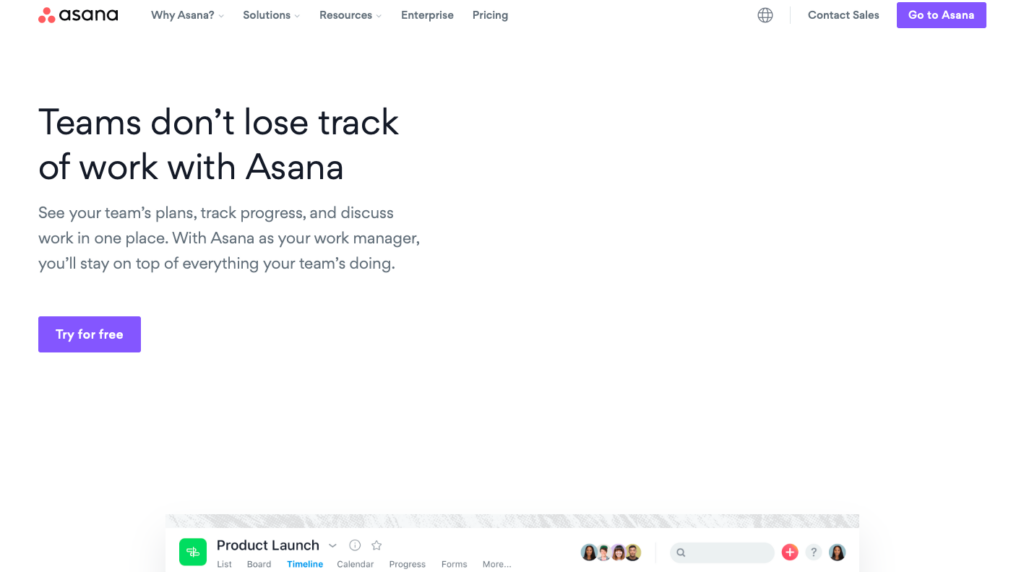 Asana makes task management much easier. The tool helps companies manage, cooperate, communicate as well as organize various projects. Asana also lets you work on several tasks simultaneously.
Fast information flow along with the intuitiveness of the tool will increase the efficiency of your work. You decide which action will trigger data transfer and you choose which information will be forwarded from Pipedrive to Asana. It can be, for instance, a title and value of the transaction, either personal or organizational data as well as pinned notes.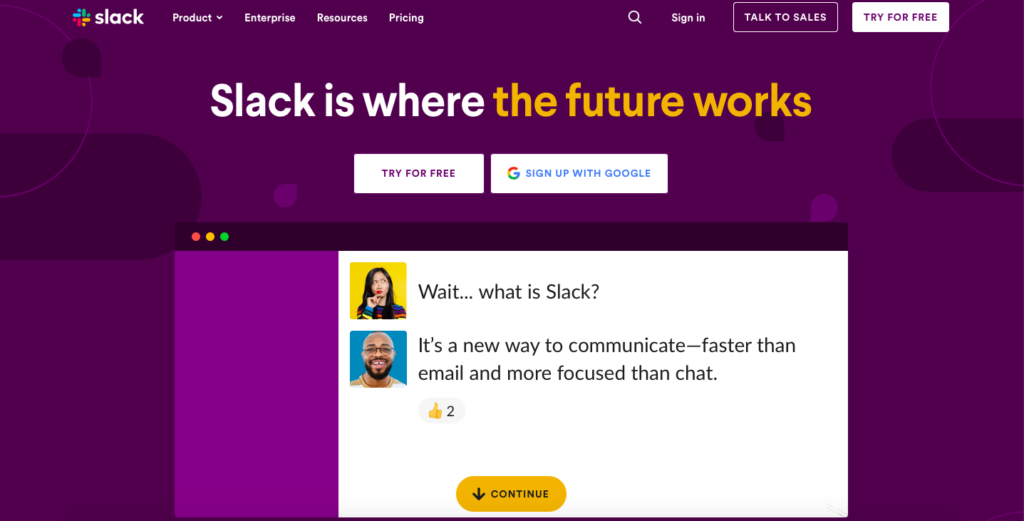 Slack is a tool improving collaboration and all aspects of the organization. Projects and teams can be assembled in one channel, which significantly improves communication and information flow. Additionally, Slack gives access to completed tasks, which lets you get back to them if needed.
You can be in communication with other companies in the same way. Salespeople will be able to inform their managers on an ongoing basis. Colleagues will also benefit from this tool as actualizations on sales forecasting are available. It's all without scheduling appointments and sending extensive emails.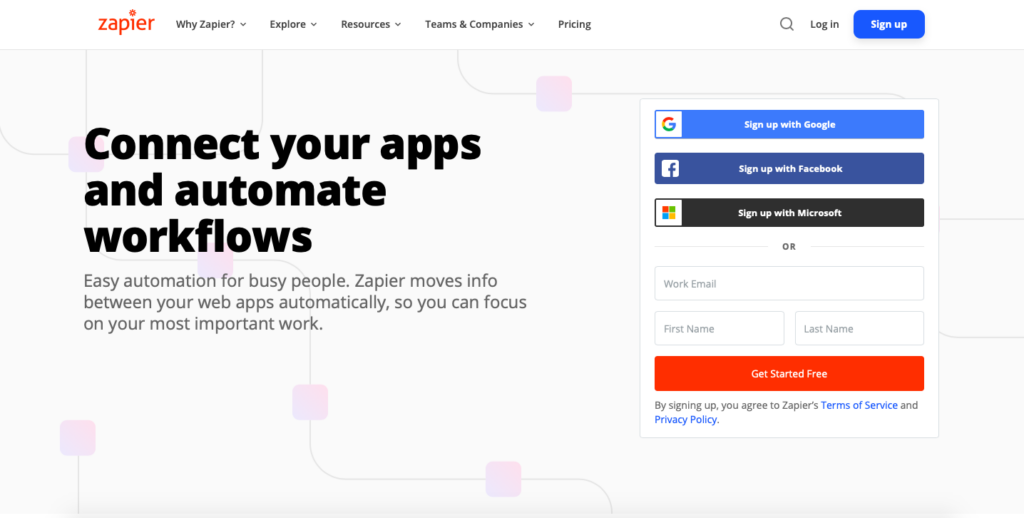 Zapier mechanically transfers information among apps you use. It will notify you about the sent forms, which will enable you to work ASAP. The tool organizes all leads and automatically redirects your data to the freely chosen localization which is available to the whole team.
Moreover, you can engage new clients with ease. Zapier'll add them to your mailing list as soon as they've purchased a particular product.
Thanks to Pipedrive integration into Zapier, you are able to add leads from Facebook ads or come up with new transactions in Pipedrive when an application in the form's appeared.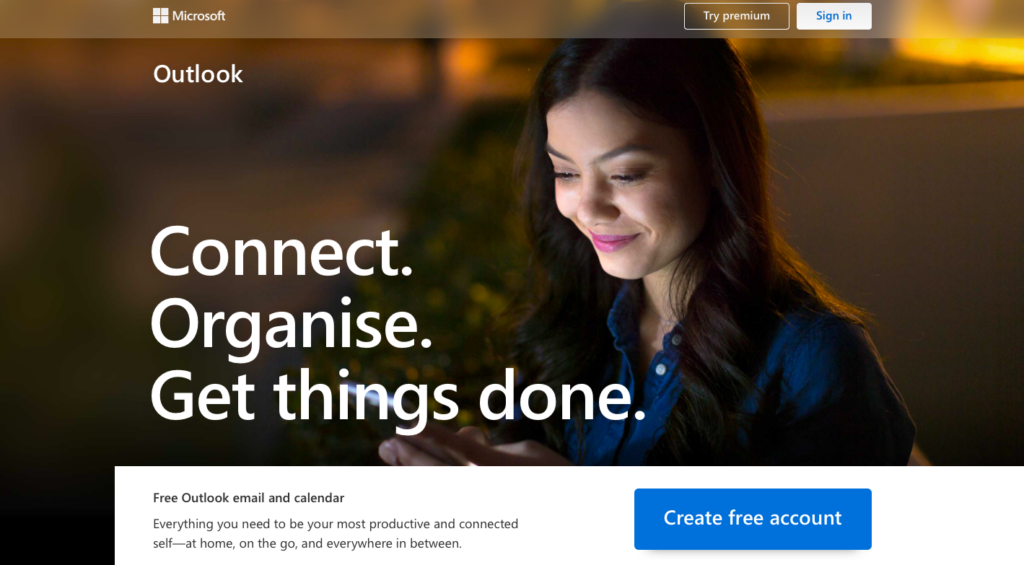 Outlook will help you with time and task management so far as personal and working life is concerned. Because of the easy-to-access calendar, you can plan certain activities and meetings. If needed, you can also easily share information about your availability.
Outlook grants you access to:
Email inbox
Calendar
Contacts
Tasks
It is also possible to lookup all needed information to get necessary data or documents.
Pipedrive integration into Outlook makes tracking email history really approachable. Messages will be assigned to contacts from Pipedrive, and you could even make use of sales forecasting. It will save you precious time since you'll not have to be searching for the client in CRM while talking with him. Instead, you will keep everything that you need around!
Sellizer also offers integration into Outlook. You can send a business offer directly from Outlook—logging to Sellizer isn't needed. Having said that, all features and functions will be available to you. It doesn't matter whether you're using an email app or viewing messages in your browser. Sellizer plugin will automatically turn on during writing a new email in Outlook.
Find out more about Outlook's integration into Sellizer.
Integrations into Pipedrive—Accounting and Invoicing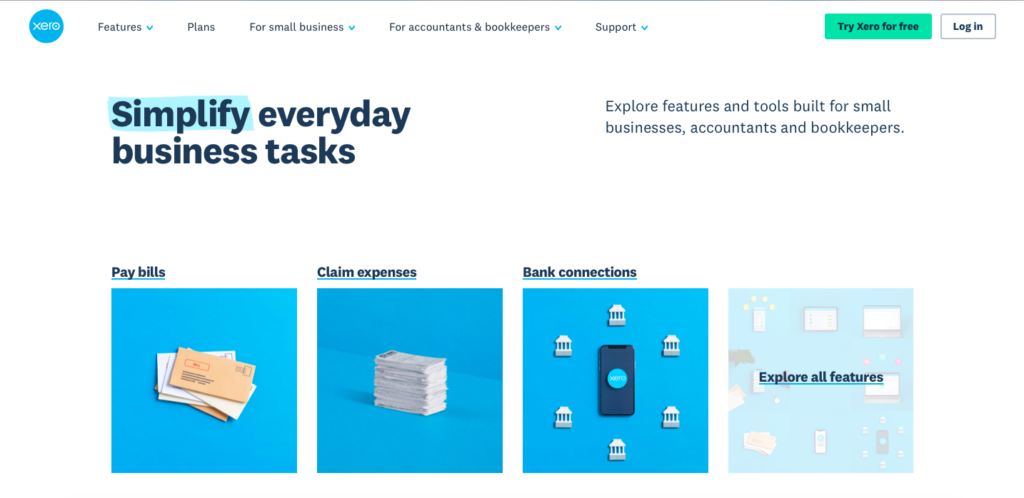 Xero offers you help when it comes to finances. The tool allows you to track your invoices, which means that you'll not lose out on deadlines. Also, you easily connect your bank to Xero—transactions will be safely conducted every business day. Get your expenses under control!
Thanks to this solution, it'll be easier than ever to issue invoices without any need of contacting the accountant. Each time the online invoice has been sent to the client, you'll get updated after its opening.
Paycove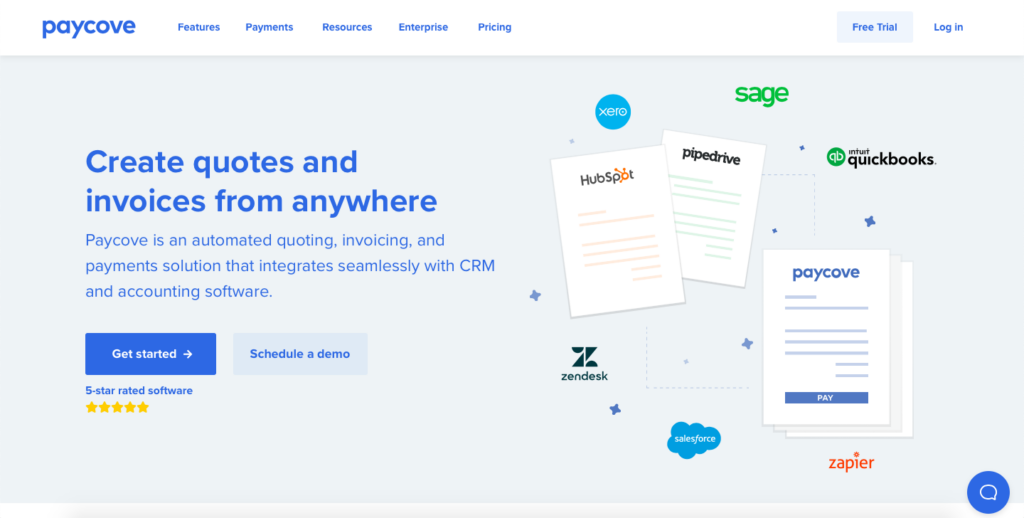 Paycove is a tool that will improve your billing matters.
It synchronizes clients' and products' data so that current offers and prices are displayed. The tool prevents you from creating proposals and invoices manually. Its two-way synchronization lets you work on your offers, contacts, and products. Therefore, Paycove resolves the issue of wasting time. Additionally, it equips you with the possibility of creating and managing duty (tax), VAT, and other charges.
Thanks to Pipedrive integration into Paycove, the tool automatically registers, modifies, and shows data in CRM as an invoice.