The best sales conferences in 2022 have been announced. Be the first to grab tickets and plan your trips. Learn more about sales, and listen to the bright speakers you've always admired. Maybe you'll also make new, exciting contacts during networking sessions? Whether you're a freshly onboarded sales rep or a hardened sales manager, there's something for you on Sellizer's list!
Sales conferences, summits, and expos in 2022 – dates and contents
When and where:
January 26-27, 2022 – Las Vegas, Nevada
February 9-10, 2022 – Austin, Texas
May 19, 2022 – Amsterdam, The Netherlands
Sales Enablement Summit is a series of events where Sales Enablement leaders worldwide share their experiences, challenges, and success stories. There will be 35 speakers from large companies and exciting startups in each of the locations.
What's on the table at this sales summit?
The summit consists of interactive sessions, keynotes, and discussions with influential people. Learn how to grow your business in fast-moving markets and form relationships – maybe you'll meet a mentor or someone to hire?
When: January 27, 2022
Where: Hamburg, Germany
Sales Summit is a German trade fair and conference focused on innovation and digitalization in sales. The hosts invite sales managers from companies of all sizes to discuss the digital opportunities for B2B sales, including the newest tools and sales processes.
What's on the agenda of this sales summit?
Some of the topics and speakers:
Alexander Almerood: Sales in extreme situations / How to expand pharma sales in the middle of a pandemic
Dr. Jens Hutzschenreuter: 5 SaaS tools / How fast-growing B2B marketing and sales teams organize themselves using tools
Erik Siekmann: Unlocking the Marketing Boost – How to make marketing and sales successful together
When: March 8-10, 2022
Where: Chicago, Illinois
AA-ISP is all about bringing sales to the next level. The Leadership Summit will help you develop sales leadership skills and solve the challenges your sales team faces. Leaders from around the globe get together to learn, share, and network – not only with sales professionals but also with technology providers.
What will this sales summit look like?
General Sessions will be concise, including 15-minute Keynotes, quick Idea Exchanges, and Panels on industry trends and challenges. You'll also have the opportunity to network and join deep conversations during the Breakout Sessions.
When: April 4-7, 2022
Where: San Diego, California
Unleash is hosted by Outreach, a known and beloved sales prospecting tool. Last year's conference focused on winning customers in a new era. Over 50 GTM and revenue leaders spoke about building sales teams, the status of sales engagement, proven prospecting playbooks, and many more topics.
What's in store for the 2022 sales conference?
We don't know yet, but let's stay tuned to updates from Outreach!
When: April 6-7, 2022
Where: Los Angeles Convention Center, California
If you're in America, it's a great idea to attend The Sales Innovation Expo – and the tickets are free! Learn tips, tricks, and techniques to turn your company into a big name. You might be interested in the co-located B2B Marketing Expo and Marketing & Advertising Expo, too.
What's on at this sales expo?
Visitors will be able to witness or partake in:
Sales Innovation Awards – hear about innovative solutions and technologies that will optimize your sales performance
Salesforce and Showpad Masterclasses – learn about CRM and how to align sales and marketing
Networking – cultivate new contacts and gain insights into the industry
The VIP Lounge – network in private with the world's leading sales professionals.
When: June 2022
Where: Frankfurt, Germany
The Global Sales Science Institute holds yearly conferences for B2B sales professionals and managers. Scholars and practitioners unite and collaborate on B2B sales research, education, and practice.
What's this sales conference about?
We don't know the program for 2022 yet. In 2021, the speakers talked about: artificial intelligence in sustainable sales, digitalization in B2B sales organizations, sales excellence in the digital era, and the dark side of ethics in sales among other topics.
When: September 18-23, 2022
Where: Virtual + Georgia World Congress Center, Atlanta
The must-attend sales conference – reserve tickets while you can! OutBound 2022 will be virtual on Sep 18-20 and in-person on Sep 21-22. The virtual-only ticket also includes live streams from the Elite Breakout Session that VIPs will attend in person on Sep 23.
What's the plan for this sales conference?
The conference starts with virtual sessions, and then moves on to on-site keynotes on the main stage. Focusing only on sales prospecting, pipeline, and productivity, it's the best event for sales professionals to attend!
As we're writing this post, we don't know the exact topics and speakers for 2022 yet. However, you can count on hearing some big fishes such as Anthony Iannarino, Jeb Blount, Mark Hunter, Meredith Elliott Powell, and so on.
When: October 12-14, 2022
Where: San Diego, California
Gartner is a global research and advisory company hosting a conference for CSOs and sales leaders. In 2021, attendees learned about:
the future of sellers and the new normal,
sales communication programs to help with information overload,
modern sales playbooks and digital sales,
sales development and pipeline generation.
Now planning the 2022 conference, Gartner is looking forward to sharing details soon.
What do we know about this sales conference?
The contents will help sales professionals succeed in this economic cycle through strategic planning, cost management, and sales performance management. Attend to learn practical strategies from fellow sales leaders and explore the best technology to improve your sales technique!
Industry-specific sales conferences and summits in 2022
Some sales events are geared towards specific fields, and provide professionals with solutions to the unique challenges they face. Attend your industry's sales conferences and summits to learn about innovations and discuss the best practices within the field!
When: January 12-14, 2022
Where: Bally's Las Vegas, Nevada
The International Cemetery, Cremation, and Funeral Association hosts an annual sales conference called DEAD Talks. It's tailored to family service counselors and salespeople. In the three days of TED Talk-style sessions, sales professionals will find inspiration and develop their skills.
When: January 19-21, 2022
Where: Nobu Hotel Miami Beach, Florida
Matrix Solutions invites media, advertising, and tech executives to The Media Ad Sales Summit. What can you learn there? The leader in media CRM has prepared an agenda focusing on prosperous advertising ecosystems, industry-wide automation, and omnichannel marketing.
When: February 16-18, 2022
Where: Caesars Palace, Las Vegas, Nevada
Over 450 leaders and senior executives in managed healthcare attend the Medicare Marketing & Sales Summit. Its content is relevant to a variety of entry, mid-level, and C-suite professions. The event will cover Medicare Advantage marketing, sales, product development, and member engagement. It will provide guidance and practical techniques to drive enrollment.
When: May 1-3, 2022
Where: Westin Ft. Lauderdale Beach Resort, Florida
NTCA's conference is about sales and marketing for the rural broadband industry. What's in there for attendees? Besides new strategies and tactics, the event features the Marketing eXcellence Awards, recognizing the importance of sales and marketing in the industry. There will be exhibitions, speakers, and plenty of opportunities to connect.
When: May 4-6, 2022
Where: Ft Lauderdale, Florida
Sellers Summit is the ultimate learning event for e-commerce sellers. It's less of a conference and more of a workshop where you learn hands-on strategies for selling on Amazon and running your own store. During the two days of intensive learning, you'll meet successful entrepreneurs to help you build your brand and improve your sales. Are you in?
When and where: TBA
Future Pharma 2022 is a conference for pharmaceutical companies. It's about how to align sales and marketing in the digital era. Marketing, sales, and digital executives – as well as the heads of brands and franchises – will learn how to achieve commercial success post-pandemic. Is it even possible? From what the previous year has taught us, yes!
Sales conferences & events that might happen in 2022
Now you know which sales conferences, summits, and expos are sure to happen in 2022. What about those that have a big chance of returning but haven't been announced yet? Check their websites or social media regularly to see if they're making a comeback!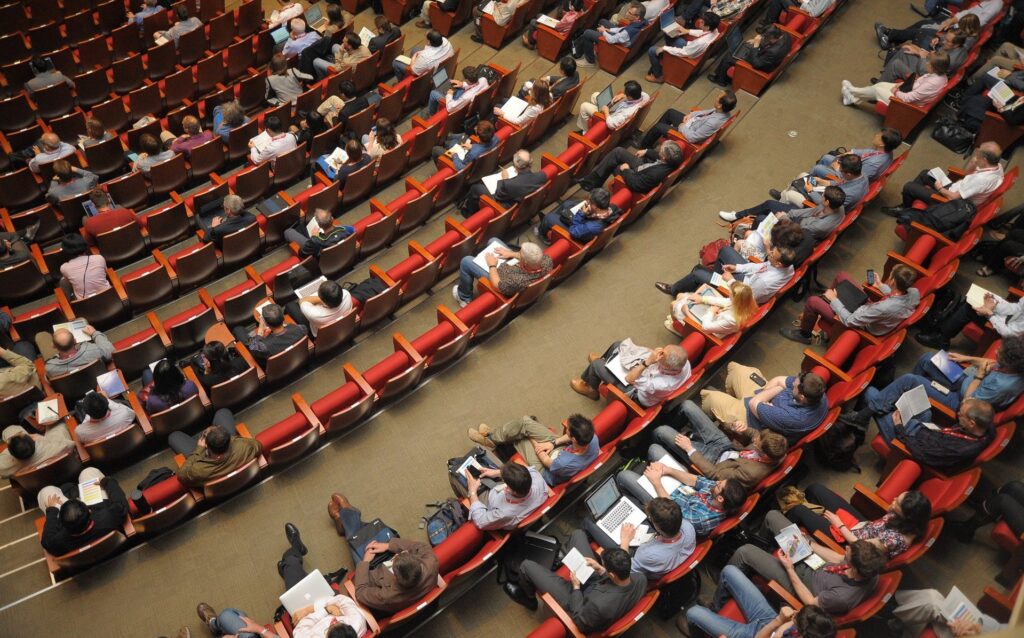 Boost your career and business with the best sales conferences in 2022
Make 2022 count! Save the dates for the best sales conferences, summits, and expos that will turn you into a sales superstar. Take advantage of the early-bird discounts. Feel the fire as your favorite keynote speakers walk onto the stage, and connect with salespeople just like you – what better way to spend a weekend productively?