Pipedrive was "designed to keep you selling." Broadly speaking, it is one of the highest-rated CRM tools. Being sales management software, Pipedrive's main goal is to help smaller teams out by automating sales-wise processes. With an easy-to-use interface, the tool—most importantly—allows you to see measurable results (increase in sales up to 28%). Founded in 2010 and having headquarters in Estonia and the United States, Pipedrive is currently used by over 95,000 companies in 179 countries [as of September 2021].
The Top Pipedrive Tutorials and Courses
Pipedrive takes a twofold approach. Firstly and most notably, it provides you with numerous sales features. A visual and fully-customizable CRM makes your sales entirely automated as well as lets you manage your leads more effectively. What's more, you gain precious insights into your sales statistics. Secondly, the tool offers you access to 250+ integrations (with a user-friendly installation). Since Pipedrive is one of the most prevalent tools of its kind, we'll now provide you with tutorials and courses that'll make using Pipedrive easier than ever. Your sales will get accelerated, too!
Pipedrive Academy
Available without any fees, Pipedrive Academy comprises various courses and featured videos. Examples of them are as follows: Now You Know – From A Pipedrive Pro, Automate Lead Generation and Qualification, or Get your team on board. The courses are divided into modules, and to enroll in them, you'll only need to click "Start course." Additionally, there are available on-demand CRM webinars which you can sign up for here.
Zapier
Zapier has created a brief tutorial which explains the fundamentals that Pipedrive is built upon. Having introduced a glossary of Pipedrive terms such as "activity" or "pipeline," the authors instruct how to create deals, create activities, and manage activities. Not only will you get a better understanding of how Pipedrive works in general terms, but also you'll get to know specific functions: reporting, goal-setting, and forecasting. Last but not least, the tutorial is in the form of a blog post, and you can access it completely for free.
Udemy
Udemy, as a platform providing online training, has released a few courses for all-level Pipedrive users. There is one bestseller—Pipedrive for Sales Professionals—which costs barely over $40 and whose average rate is 4,6/5. This course, the most recommended also by us, lets you gain insight from a real user who was able to "generate over a multiple 6 figure income for the past 3 years." Besides several tutorials available in English, Udemy as well offers one in Spanish.
Paul Minor—Pipedrive Consulting
Paul Minor's become Pipedrive Premier Partner as he's been mastering his Pipedrive skills since 2015. Having helped hundreds of customers, Paul will make you streamline your sales process. To give some examples, you'll learn how to centralize your work in one place or automate a sales process. The course itself consists of 5 modules which tackle different issues. The Master Pipedrive also offers precious knowledge about many integrations, such as PandaDoc. Depending on a package you'll decide to purchase, you'll pay from $750 to $2,497. It is a more pricey, but really valuable option.
PS If you haven't tried Pipedrive out yet, Paul gives you a link thanks to which you can get a 45-day trial 🙂
PandaDoc
PandaDoc offers a concise course which will briefly introduce to you the basics of Pipedrive. With its difficulty being 1 out of 5, the training will mostly teach you how to launch various integrations. Lasting merely 38 minutes, it is hosted by Tricia Timney and Scott Rosen. Most importantly, you can access it for free!
Stacksocial [DISCOUNT]
Stacksocial is a start-up which regularly offers you tech-related deals. It is the case this time, too. Wanting to meet clients' needs, the service's released a course which was prepared in coordination with the Pipedrive team. The tutorial lasts 5 hours and is instructed by Matt Smith, the founder of Full Stack Sales in Los Angeles. What's important, if you decide to purchase the course, you'll be granted whole-life access. Stacksocial will also provide you with a certification as soon as you complete the training.
ONLY NOW you can have it for free (before: $200)
The TOP Integrations into Pipedrive
One of the courses that we've described above teaches you specifically about integrations. Their importance can hardly be overstated. Since Pipedrive offers over 250+ integrations of various kinds and they can really make your life easier, it's about time that you got acquainted with some integrations into Pipedrive.
Sellizer
As a sales management tool, Sellizer comprehensively cares about your sales, and does so on all levels. You'll be notified as soon as your proposal has been opened and viewed. But that's not the end. You will also gain invaluable and detailed statistics which will help you accelerate many sales processes.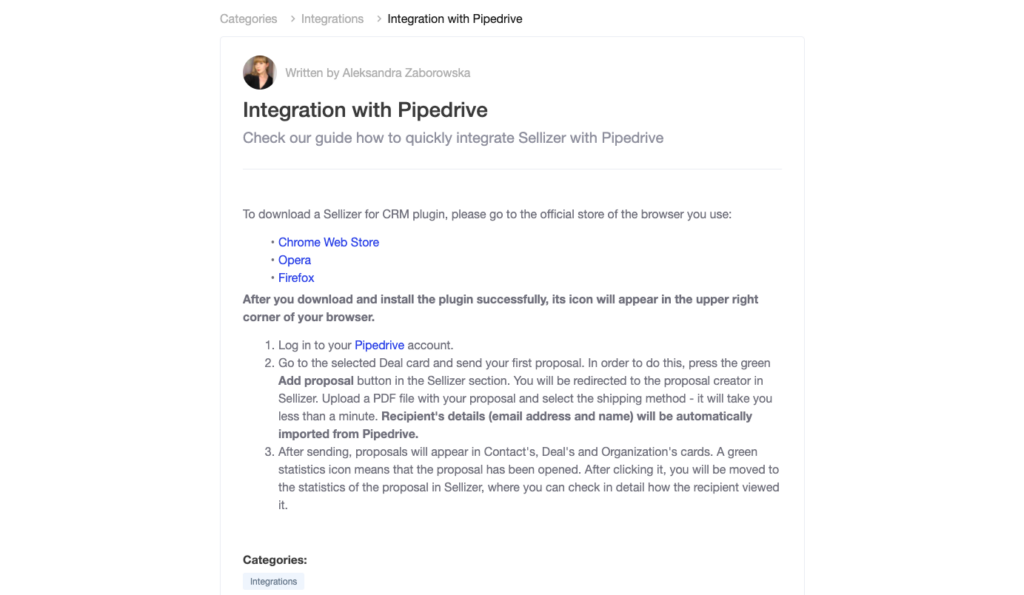 Zoom Meeting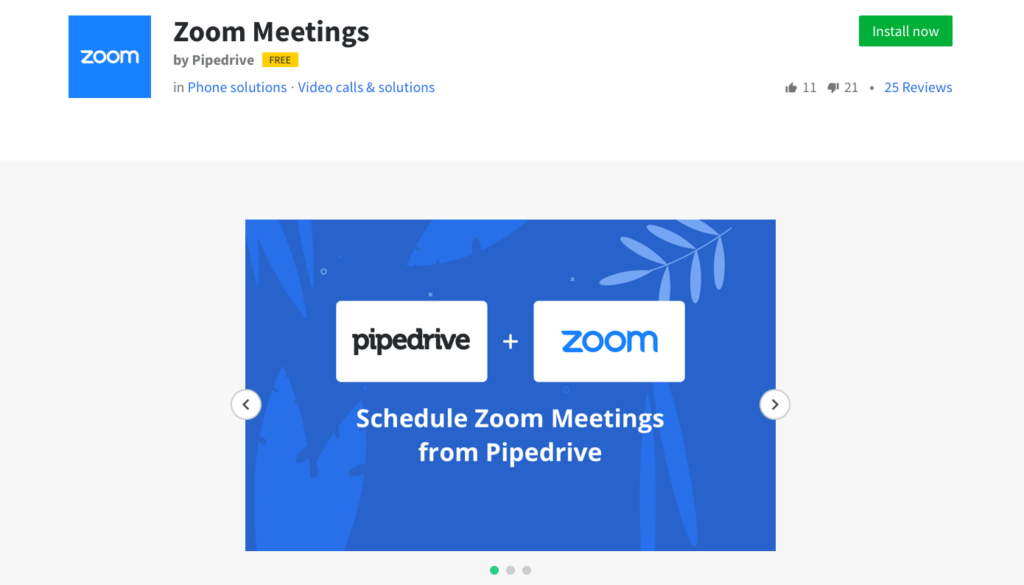 As one of the most common video conferencing applications, Zoom was made integration into Pipedrive. Thanks to this fusion, you can "simplify and streamline the process of scheduling calls, sending meeting links, and logging activities after." After having completed an easy installation process, you can also start adding calls to activities as well as schedule meetings with Zoom.
This integration is free.
HubSpot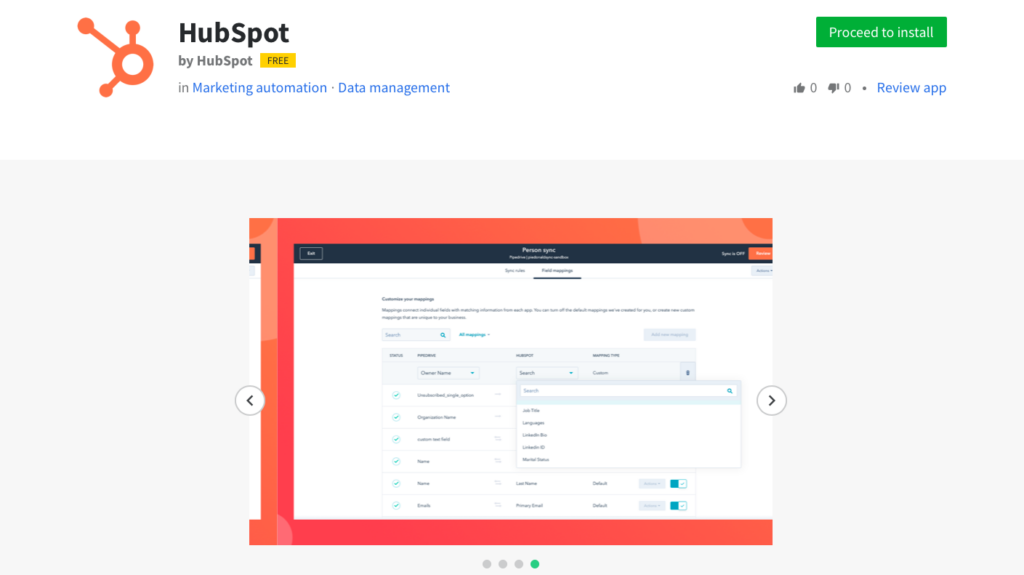 Your main reason for using HubSpot integration is perhaps saving time. Let time-consuming processes go and have your data shared between the two applications in real-time. Additionally, you're granted access to default field mappings. In terms of historical syncing, until-now data will sync right away, with updates doing so as they happen.
This integration is free.
Asana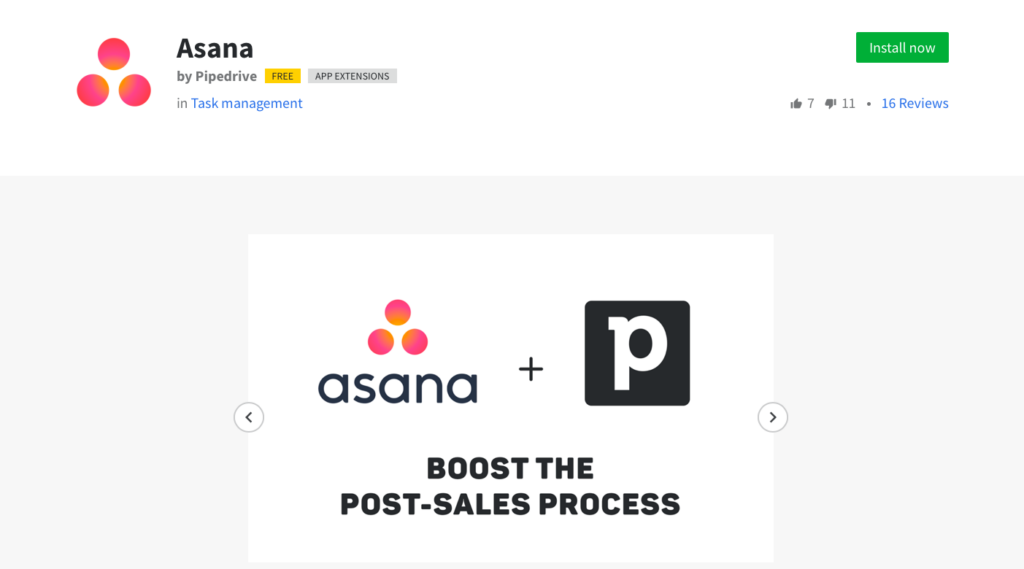 Asana integration into Pipedrive enables you to create and manage particular tasks which can be easily synchronized with all deal-wise changes in Pipedrive. What's more, you gain enhanced communication. You can also decide and adjust deal details.
This integration is free.
TOP Pipedrive Tutorials: Summary
There are certainly some Pipedrive tutorials available, but very few of them deserve your attention. That's why we've decided to provide you with specific positions. Share your thoughts with us as soon as you've tried a course out!